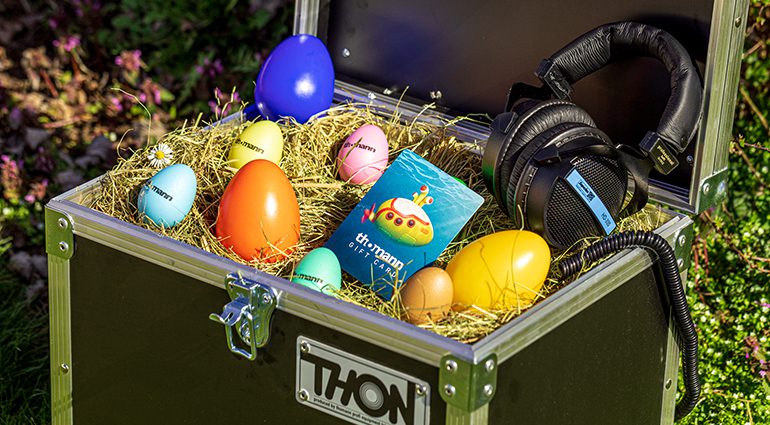 Easter Egg Painting Contest
Easter Egg Painting Contest
?UPDATE: 08/04/2021?
It was a VERY hard decision process because there were SO MANY great entries to choose from. Check them all out on our IG Story Highlight. But decisions needed to be made and here they are, congratulations to all the winners:
Winner for Thomann International: 
Winner for Thomann France:
Winner for Thomann Italy:
Winner for Thomann Netherlands:
Winner for Thomann Germany:
Winner for Thomann Finland:
Winner for Thomann Spain:
Winner for thomann.music Instagram:
---
?UPDATE: 07/04/2021?
The contest is now closed. Thank you SO MUCH to everyone who participated, we loved every single entry. There were some very clever submissions and we'd love to share some of them here. Below are some of our favourite entries, the winner will be announced tomorrow (Thursday)!
---
Easter is almost here and we want you to get in the mood by painting some eggs, as is the custom in many European countries. In the process of decorating your home in this festive manner, you could win some great prizes from us. We are holding Thomann's first Egg Painting Contest on Instagram and Facebook.
Win a Thon flight case of your choice (maximum value: 100 euros) and some Easter goodies, including a pair of Superlux HD-330 Pro headphones, Thomann egg shakers and a 100-euro voucher!
How to Enter 
All you have to do is paint an egg (or several) with a motif related to music, take a picture of it, post it to your Instagram feed, or in the comments of the Easter contest post on Facebook.
Important: If participating on Instagram, use the hashtag #MyMusicalEasterEgg21 on your post so that we can find your entry.
???
The winner will be chosen based on originality, relevance to the music community and fun-factor. Also, the photo's composition, lighting and exposure is important. It would be a shame if we couldn't see your creation in all its glory! 
Here's a great example:
Contest Running Time
The contest will start on Wednesday, March 31st at 4:00 pm (CEST) and will run until Monday, April 5th, 11:59:59 pm (CEST). Any photos submitted after this time will not be eligible for winning. The winners will be announced a few days after the end date on our social media channels. 
Terms & Conditions
Click HERE to read the full contest rules, terms and conditions of the contest.
?Good luck and have fun!?