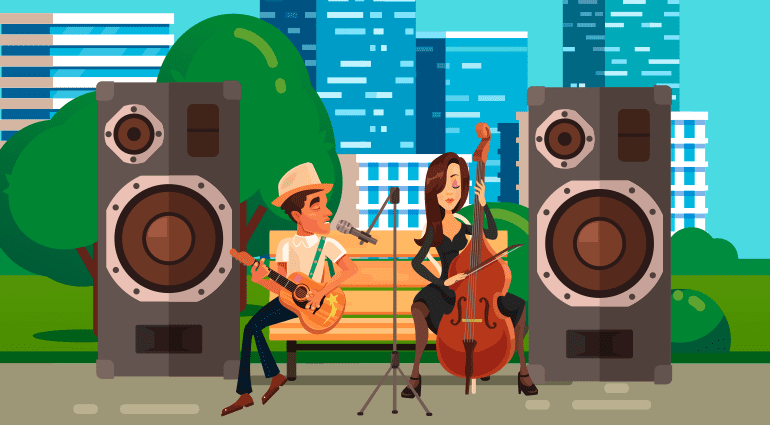 7 tips for buying your outdoor PA
7 tips for buying your outdoor PA
Outdoor gigs pose special challenges for the PA system. The usual problem is that, in contrast to indoor concerts, it has to be significantly more powerful, especially since there is no real sound-reflecting room available. At the same time, it mustn't reach too far at loud volumes to spare the nerves of residents, passers-by or people at the side stand: sound quality over volume. Below are some tips and product suggestions for your ideal compact outdoor PA…
#SoundsOfTheStreets
For the small to medium-sized event, there are now numerous speakers and small PAs that enable battery-powered mobile sound reinforcement. Musicians, entertainers and other protagonists can easily stage the – approved(!) – event at a city festival, in the pedestrian zone, the backyard party and other events. Thanks to battery-powered active components, many things have become simpler and cable-free in recent years. Because they are usually dismantled just as quickly as they are assembled, most users attach great importance to freedom from cables and low weight.
---
Battery-powered speakers and small PAs
1.
The LD Systems Road Buddy 10 is a battery-powered Bluetooth loudspeaker with integrated power amplifier and radio receiver. Ideal e.g. for entertainers or cabaret performers who require playback. Integrated are a media player, USB stick and an SD card for various audio formats. The Roadbuddy can be easily configured to a small PA. The mixing console is on board; the handheld transmitter and the remote control are also included. And the trolley function with wheels and telescopic rods ensures energy-saving transport.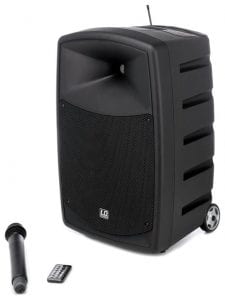 2.
Another possibility for "musician-to-go" is the active all-in-one Bose S1 Pro PA System, which has only  been on the market since the beginning of 2018. The system can be used as a stage monitor, practice amp or primary PA system. With a maximum level of 103 dB, it can be used to provide sound to approximately 50 people. The small PA enables Bluetooth streaming with one-touch pairing. The special feature besides the extensive equipment: The rechargeable lithium-ion battery has a full running time of up to 11 hours and can be recharged very quickly.
3.
JBL also offers an interesting solution with the JBL Eon One Pro. This is a battery-operated column PA including amplifier and integrated mixer that can be set up in the shortest possible time for concerts, conferences and more. This small battery-operated PA has an 8″ subwoofer; tweeter and midrange drivers are built into the column. The power is 380 W at a maximum level of 118 dB. Audio streaming via Bluetooth is also possible. What more could you want?
4.
You can also enjoy cable-free operation with Samson's Expedition Express Bluetooth speaker. Thanks to the built-in 3-channel mixer and tone control, it has the capabilities to also be used as a small PA. The advantage besides the integrated battery, which allows an operation of up to 20 hours: It is extremely inexpensive, so that both the right and left side of the stage/setting can easily be equipped for a nice stereo sound image.
5. 
At any time you can assemble the small PAs on both sides, so you can position one part on the right and one on the left. If the event gets bigger, that is quite appropriate. What could then be missing for the oppressive sound is a corresponding subwoofer, which should also be suitable for outdoor use:
Since June 2017, JBL has introduced the JBL SB2210, a subwoofer system for indoor and outdoor use that has quickly reached the top sales ranks in its department. The woofer is weatherproof to (IP45 approved) and can be driven into 8 ohms at a maximum level. It is equipped with 2 x 10″ speakers, which can also be addressed separately.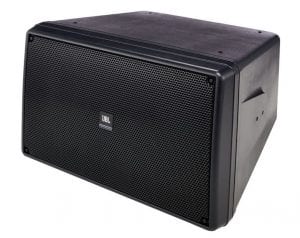 ☝ Do not forget ACCESSORIES when setting up outdoors!
You can't avoid the fact that the weather doesn't always cooperate outdoors. Although some components are suitable for outdoor use (being waterproof) other are not. Often if the box is waterproof, the microphone is far from it. And you won't want to play your expensive guitar in the rain. ⚡ You should therefore pay special attention to these useful accessories:
6.
The Flyht Pro WP Safe Box 1 IP65 – a sub-brand of Stairville – is a practical transport case with trolley function in which the most diverse utensils can be transported water-, dust- and airtight. The case is assembled according to IP65 certification (weatherproof) and is equipped with a front valve for pressure compensation. It can be used in a wide range of climates and temperatures – between -25° C and +75° C! Also, it has been tried, tested and true for many years now.
7. 
The same applies to the protective covers for the speakers. Of course, this is of little use if the PA components are to be covered due to the threat of rain, but the cover itself is water-permeable. A good and at the same time very inexpensive solution are the Thomann Covers for Loudspeakers, which are made of water-repellent nylon and thus protect your equipment from damage. Available in different standard sizes.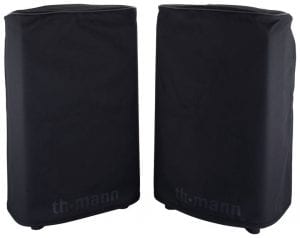 ---
Have fun in the fresh air and inspire those around you! 
⛈???☀