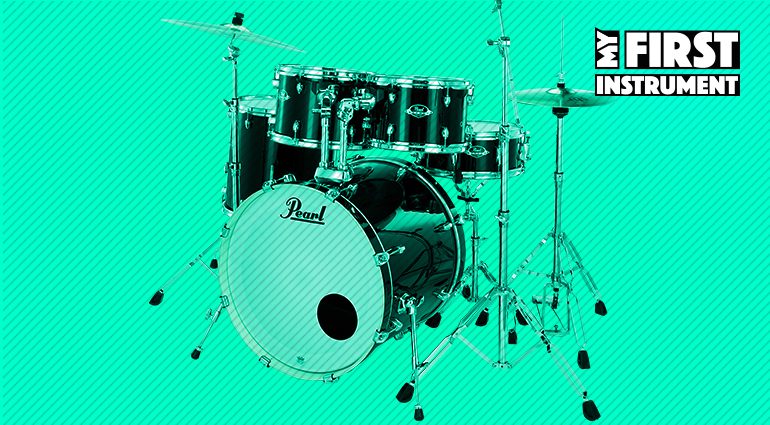 5 Tips for Beginner Drummers
5 Tips for Beginner Drummers
The first drum kit has arrived or is about to be bought. You are justifiably proud of discovering a new hobby for yourself as a groove master. Training should start as soon as possible. Understandably, there are a number of questions floating around in your head. We are happy to advise you in the drum department. We want to try to make it easier for you to get started in the drum game. Let's go, here are our tips for a great start!
---
#MyFirstInstrument ?
1. Don't waste energy and time haphazardly –
Learn with a plan!
So that you can track your success and thus motivate yourself, you should set yourself realistically achievable goals. It is important that you work out the basics and then knit these individual skills into a larger whole.
That means we need a step-by-step plan. But what could it look like? Like this, for example:
Set up the drum set to suit your height
Adopt a sensible sitting posture, avoid bad posture
Practice the correct playing position of the drumsticks
Basic hitting techniques on the snare
Familiarize your feet with the kick and the hi-hat pedals
Practice some basic beats, sequences, rhythms and paradiddles
Create a repertoire of simple drum fills
Practice variable dynamics and volume
Train and consolidate timing and tact with the metronome
Simon from Thomann's Drum Bash shows you the best grooves and fills to start with in the video below ?
2. Develop and observe the correct stick and body posture
Gripping the drumsticks sensibly is essential to starting successfully on the drums. In fact, there are several grips, namely the American, German, French or the so-called Traditional. Often the choice will fall on the American grip, especially since it is uncomplicated and secondly it is both easy to learn and versatile. This style of play offers you a good synergy of power and control. Correct sitting and posture are no less important in order to stay relaxed in the musical and sporting discipline and to avoid bad posture. Are you looking for the perfect sticks for you? You can find them with our Woodpicker tool, just click here.
3. Train synchronization and independence of hands and feet
As a drummer you will be admired again and again by a number of other instrumentalists. The independence of the drummers' limbs is simply impressive. The hands and arms often perform completely different tasks at the same time, and the feet and legs also often perform complex playing techniques independently. It's easy to see that this requires a good amount of training. Purely mechanical training is not the only important factor here. Rather, it's a process that needs to be practiced mentally. Imagine you are an octopus! ?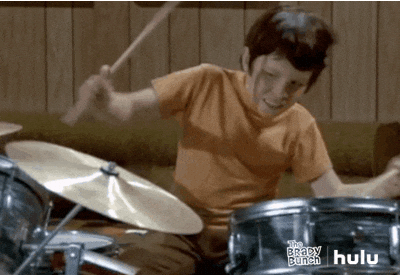 4. Be sure of your timing and rhythm with a metronome
Song, measure and groove are a mathematical division of time into tiny parts that are finally put back together again. Timing and playing at the correct tempo are of great importance to you as a drummer. You would like to believe that you have the right tempo in your feeling. Unfortunately this is often not the case, and certainly not as an inexperienced beginner. It makes far more sense to rely on a metronome. Playing along with one is not that easy, especially since this strict adherence to tempo is not naturally human. But don't despair; it's always worth it.
5. Don't forget hearing protection – you'll thank us later
You are enthusiastic about the drums and want to work really hard. A part of you has concerns about this: your eardrums. The fact is: the ears are far too close to the source of the noise. Think ahead of time how risky this noise is for your hearing. The eardrum is sensitive and you only lose your hearing once. We can only urgently recommend playing with hearing protection from the start. A wide variety of variants are available, from earplugs to in-ear systems with a monitor function.
Drums, percussion and accessories: gear to get you started
The drum set for beginners has to meet your requirements in terms of quality and sound, but shouldn't break your budget. You benefit from the fact that production quality is quite high, even in the entry-level, and often at surprisingly low prices. So that you can make rapid progress with your new hobby, you should factor in the appropriate accessories from the start. Drumsticks don't last forever; Drumheads are worn out or tear at some point. Exercise pads and gel pads for dampening are helpful; a metronome for your timing, hearing protection for your ears is indispensable. If you live in an apartment and have to keep your volume level low because of the neighbors e-drums might be a great solution for you instead of acoustic drums.
---
---
Beginner acoustic drums
Beginner Electronic Drums
Advice: Always ask questions
If you need advice about accessories or textbooks, don't hesitate to contact us. Our colleagues from the Drums & Percussion department will be happy to help you and advise you.
The basic rule for all instruments is that their size must be based on the child's build and development. Therefore, when buying, the advice of an experienced teacher or a visit to the specialist departments of our store in Treppendorf is ideal.
If you can't come by, you are welcome to call us, use our live chat on thomann.de or send us an email. Below you will find the contact details of our drum department and under this link all contact details of the departments and the respective specialists.
Percussion department | Contact
(09546) 9223 40
To the Drums & Percussion department at thomann.de
You can find information on all instrument groups and much more in our extensive online guides.