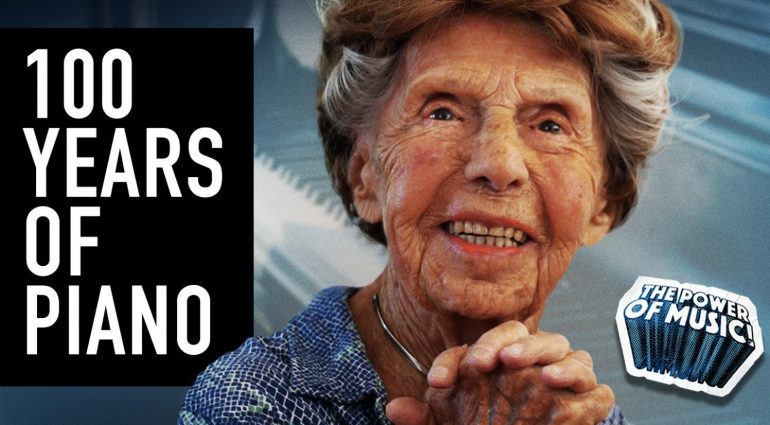 100 Years of Piano – Interview with Colette Maze
100 Years of Piano – Interview with Colette Maze
How long have you been making music? We met a lady who has been playing the piano for over 100 years – everyday! We would like to introduce you to the 107-year-old Colette Maze, the oldest pianist in the world. We met her in Paris and, in a video interview, she told us her moving story. Experience Colette in the video below, goosebumps! 🎹
---
About Colette Maze –
the "Grande Dame" at the piano
Colette was born in Paris on June 16, 1914. She started playing the piano at the age of five. Colette has been at the piano everyday since 1921. She still practices several hours a day today. For Colette, her piano is a loyal friend.
In the 1930s she studied in the class of Alfred Cortot – one of the most important piano virtuosos in France at the time. Colette worked as a piano teacher all her life. There is one small exception, however: during the Second World War she was employed as a nurse in a hospital. Music offered her both refuge and escape throughout her life. ❤
---
"There are people who don't dream, children who are sad. We give them a little consolation: Because music heals, makes people dream." – Colette Maze
---
She was particularly fond of the Romantic era, she admires composers like Claude Debussy and Robert Schumann. At the advanced age of 84 she released her first album. Her 6th studio album was released in May of this year: "Un Siècle avec Debussy".
What is her secret recipe, how does she keep fit? With yoga and piano playing, of course. Three eggs and a glass of wine are also on their daily menu. What an inspiring woman. And an example of what music can do. #ThePowerOfMusic 
---
How do you like the story of Colette Maze? When, in your life, did music give you strength? Let us know in the comments!✍