DJ Media Player
HD 10.1-inch touchscreen with excellent visual and interactive user interface

3x USB, 1x SD

Built-in HDD drive bay for storing music on the device

Integrated internet capability via WLAN or cable for music streaming

Performance Pads made of rubber with excellent response and refined lighting

Adjustable 8.5-inch jog wheel with large surface area for turntable manipulation

Standalone track preview

Serato DJ Controller mode (Accessory Controller, supported hardware is required for operation with Serato)

Class-leading algorithms for time stretching and key change / synchronisation

Internal analysis of music files (including Rekordbox collections)

Dual-Layer playback with independent analogue / digital outputs

StagelinQ connection for professional event / DJ lighting and video control: Plays uncompressed audio formats (FLAC, ALAC, WAV)

IEC connector for a secure hold

Dimensions (W x D x H): 320 x 463 x 151 mm

Weight: 5.8 kg

Suitable optional case: Art.483157 (not included)
Available since
August 2020
incl. software
Denon Engine
Stand Alone Mixer Function
No
Professional double-layer media player
The Denon DJ SC6000 Prime is a high-quality, state-of-the-art media player for professional-level club use and features an intuitive 10.1" high-resolution touchscreen display. The feel of the 8.5" jog wheel, the high-sensitivity pitch fader, and the rapid-response performance pads as well as the player's powerful sound are all outstanding. The player's dual-layer technology provides two independent analogue and digital outputs, and the algorithms for master pitch, time stretch, and sync allow harmonic, beat-accurate mixes with no loss of sound quality. The music itself can come from a USB stick, an SD card, or an SSD hard drive (which can be installed as an option), or it can be streamed directly from Beatport, Beatsource, Soundcloud, or TIDAL. Despite its relatively affordable price, the DJ SC6000 is currently considered by many professional DJs to be the best and most versatile player on the market.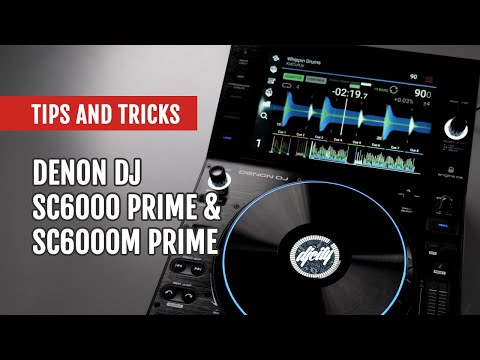 For professional DJs
The Denon SJ SC6000 Prime is a dream tool for professional DJs. As well as looking outstandingly futuristic, it also boasts state-of-the-art features. The integration of an optional SSD allows tens of thousands of songs to be stored directly on the device, while millions more are available via internet streaming and can be sorted and selected via the large high-resolution touchscreen as conveniently as on a tablet computer. All this makes the Denon DJ SC6000 Prime the ideal tool for mobile DJs who would prefer to leave the laptop at home, and it is also perfect for club DJs with limited space to work in, since its double-layer technology essentially offers two decks in one: A single player and a mixing desk are all you need to test playlists and mixes for the clubs at home under professional conditions or to delight fans with slick-sounding mix tapes.
Stream music directly from the internet
Denon has been competing to become king of the DJ booths for years, which is why the company equips its players with every refinement possible. Besides being an outstandingly professional solution in every regard, the Denon DJ SC6000 Prime is also compatible with many products from other manufacturers. Because it can read Pioneer Rekordbox USB sticks, DJs who use CDJ systems will find the transition particularly easy. The player can stream music directly from the internet via WLAN or a network connection, it can be used as a controller for Serato and Virtual DJ, and it can even function as a professional lighting and video control system with Resolume and SoundSwitch via a StagelinQ connection. At the same time, the SC6000 Prime's double-layer technology and two independent outputs effectively make it two players in one, since the controller interface is switchable. What is more, Denon regularly offers spectacular free updates that provide new and exciting functions.
About Denon
The Japanese-American company Denon was founded in 1910 and established itself as a leading brand in the 1930s. It has long stood for ground-breaking technological innovations that were frequently world firsts in their time. Denon's passion for invention has produced many remarkable technologies, including the first professionally usable recording device for gramophone records (1939), the first Japanese stereo records and stereo systems (1951), and the first PCM recorder, which was based on the same principle as today's CDs (1970). In 1982, Denon launched the first CD player for home use, the DCD-2000, another milestone among its already widespread innovations. Today the company belongs to D&M Holdings Inc. and is famous for its hi-fi and DJ products.
A multi-functional player for every scenario
Denon DJs can organise their music on their computer using the free Engine Prime software and feed their DJ SC6000 Prime playlists from a USB stick, SD card, or SSD. However, the music can also be directly analysed and organised "on the fly" on the device and saved to a USB stick without using a computer. The player can even read, play, and convert libraries in Pioneer's proprietary Rekordbox format. Thanks to their network compatibility, every connected Prime Player can access the music simultaneously, and the QWERTY keyboard on the unit's 10.1" touchscreen display allows you to search for music tracks by name. The large jog wheel, the high-sensitivity pitch fader, and the generously dimensioned performance pads with Hot Cue, Loop, Roll, and Slicer functions all make breath-taking DJ techniques easy.
This is what customers who viewed this product bought