Mobile 2-Deck Smart DJ Console
Fully-fledged 2-deck DJ console that fits in the backpack

Rechargeable lithium-ion battery for up to 4 hours of performance without a power source

7" Touchscreen with gesture control

1 x USB and 1 x SD media connections

Integrated internet connection via WiFi or cable for music streaming

Dual-bank performance pads for triggering hot cues, loops and rolls

Aux input for media players, tablets, smartphones

Touch capacitive jog wheels

Internal analysis of music files & Rekordbox TM collections directly from USB

Standalone track preview to preview songs before loading

Assignable effects module

3-Band EQ and filter / sweep effects

2 Dedicated XLR / 6.3 mm combo microphone inputs with level and talkover

Dimensions (W x D x H): 411 x 274 x 53 mm

Weight: 3.7 kg
Available since
June 2020
Controller type
All in one
incl. software
Denon Engine
Stand Alone Mixer Function
Yes
Storage Medium
SD Card, USB to Device
Compact stand-alone DJ console
The Denon DJ Prime GO proves that good things really do come in small packages: It combines all the functions that a stand-alone DJ workstation needs, its footprint is no larger than a sheet of A3 paper, and it comes equipped with a rechargeable battery that provides up to four hours of non-stop operation. DJs have two decks with touch-sensitive jog wheels, pitch faders, three-band EQ and effects, a crossfader, and a 7" touchscreen at their fingertips, and the option of battery operation allows complete mobility. The music can be stored entirely on an SD card or USB stick, or can alternatively be streamed from popular services like Beatport, Soundcloud, or Tidal or from a private Dropbox account via Wi-Fi or LAN. Denon has even included an AUX input for external devices, and a power adapter is of course also included to allow continuous operation. The Denon DJ Prime Go is particularly well-suited to outdoor events where no mains power supply is available.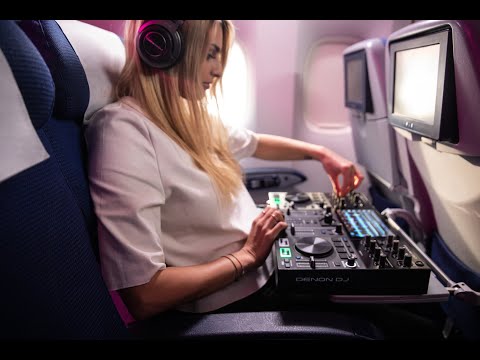 The perfect touring companion
The Denon DJ Prime GO gives DJs something they have long dreamed of: A truly professional, extremely compact, and battery-powered digital DJ workstation that can easily fit into a rucksack and can operate without a laptop. The GO is the perfect companion for DJs who like performing at outdoor events: Simply connect it to a battery-powered speaker system and get the party started, wherever you are. Mobile DJs who like to travel light and bars with limited space available will find this compact workstation a perfect alternative to large, bulky consoles – thanks to its outstanding versatility, however, it has also proven to be a perfect companion for DJs who tour the world, since it allows them to quickly put playlists and mixes together during flights and train journeys without needing a power socket, wherever they are. All of this is of course also compatible with the "bigger" Denon players.
Small dimensions, huge performance
Don't be fooled by the Denon DJ Prime GO's diminutive size: Despite its compact dimensions, it delivers a complete DJ setup capable of professional performances. Its user interface features a smart design that makes every function easy to operate. The 80 mm jog wheels feature a "vinyl mode" and the 45 mm long pitch faders with additional pitch bend buttons also allow precise beat matching. Four generously dimensioned pads provide access to eight cue points, loops, and beat jumps. In addition to a central effects unit with 13 effects, an intuitive filter/sweep effect is also available on each channel, and the compact touchscreen provides a perfect overview of the various wave forms, playlists, and track information as well as access to additional features such as EQ and filter adjustment, microphone damping, talk-over, and a DJ set recording function.
About Denon
The Japanese-American company Denon was founded in 1910 and established itself as a leading brand in the 1930s. It has long stood for ground-breaking technological innovations that were frequently world firsts in their time. Denon's passion for invention has produced many remarkable technologies, including the first professionally usable recording device for gramophone records (1939), the first Japanese stereo records and stereo systems (1951), and the first PCM recorder, which was based on the same principle as today's CDs (1970). In 1982, Denon launched the first CD player for home use, the DCD-2000, another milestone among its already widespread innovations. Today the company belongs to D&M Holdings Inc. and is famous for its hi-fi and DJ products.
Ready to mix: Any time and any place
Whereas large DJ consoles are usually confined to a single location, the DJ Prime GO is always with you, wherever you are – at the beach, in the garden, on a world tour, or on vacation – and makes it easier than ever before to mix in outstanding quality without a laptop or a mains power connection. Just like a larger DJ setup in a club, this compact wonder is connected to PA and monitor speakers via XLR and jack sockets, then all that remains is to plug in the headphones and USB stick. Just like a laptop, the console will continue running smoothly even if the mains power supply fails. And the DJ Prime GO can also form the core of a highly mobile and, if necessary, mains-independent DJ setup thanks to its auxiliary inputs, which allow external sources like microphones, smartphones, and drum machines to be connected.
This is what customers who viewed this product bought