Hi-Hat
Size: 14"

Crisper, sharper sound through the use of high-quality bronze
available since
November 2011
Finish
Regular / Traditional
Real bronze from the Far East
Zultan's most affordable cymbal series is called Aja - pronounced "Asia" - and is made in China. Unlike the machine-made B8 cymbals offered in the same price range by their competitors, the Ajas are cast from high-quality B20 bronze and hand-hammered. In addition to the 14" hi-hat, the Aja range offers other individual cymbals in various sizes and designs in addition to various preconfigured sets.
B20 - the standard yesterday, today, and tomorrow
In China, people have been familiar with the manual production of gongs and cymbals for centuries, so a lot of experience has gone into making the Aja series. 80 percent copper and 20 percent tin, B20 for short, is the name of the formula that has long since established itself as the magic formula for high-quality, melodious cymbals. As the cymbals are hand-hammered, each one is unique, which means that slight sound variations among several cymbals of the same type are normal. The sound of the 14" Aja Hi-Hat is crisp and balanced with a sensitive response.
Good sound doesn't have to cost a fortune
High-quality cymbals are often unaffordable for beginner drummers, so they can now be happy that the Zultan Aja cymbals offer a lot of sound for not a lot of money. No matter if you are playing Rock, Alternative, Grunge, Pop, or Funk - the 14" Aja Hi-Hat can be used in each of these genres thanks to its rich sound and precise response. However, with this model even advanced drummers might find exactly the right hi-hat to fit into their existing setup.
About Zultan
To provide traditional craftsmanship at a fair price has been the guiding principle of Zultan ever since it was founded in 2000. The firm's practice of selling directly to the end customer makes it possible to offer very customer-friendly prices. Nevertheless, the production process for Zultan's trademark cymbals, which are made mainly in Turkey, is of the highest quality, a fact which has ensured they have also been a fixture in the Thomann range since 2011. The nearly 250 Zultan products cover several cymbal series, catering for all sectors of the music market. Zultan also offers accessories such as bags and drumsticks. Thanks to the use of high-quality materials and manufacturing expertise, Zultan really does offer uncompromising quality at a reasonable price.
Save money in the right places
Anyone who is serious about drumming as a beginner drummer knows that a good cymbal sound is just as important as the great features and the cool look of the newly acquired drums. No matter whether you only buy the 14" hi-hat or a complete Zultan Aja cymbal set at an unbeatable price - the investment is definitely worth it, because the cymbals sound so good that you will still have fun playing them years later. The Aja range is so diverse that other cymbals from the hi-hat, crash, ride, china, and splash categories can be purchased later to meet players' growing demands.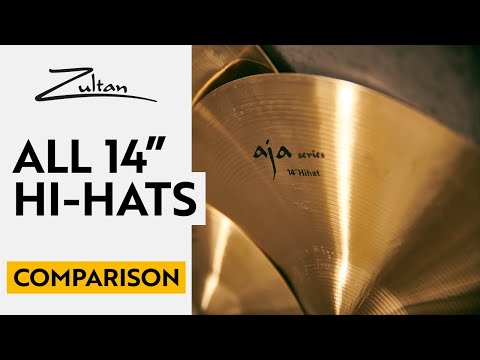 This is what customers who viewed this product bought