Mobile Sampler
OLED display for waveforms and simplified menu navigation

Powered by battery (6 x AA), by mains adapter or by USB-C

17 Velocity-sensitive RGB pads

32-Voice polyphonic

A 160 samples per project (16 pads x 10 banks) and memory available for 16 projects

16 bit / 48 kHz - Supports WAV, AIFF and MP3 import

16 GB Internal memory

3 Knobs for real-time control

37 Effects: Vinyl simulator, DJFX looper, lo-fi, cassette simulator, vocoder, auto pitch, amp simulator, reverb, delay and more

Pattern sequencer with real-time loop recording and memory for up to 2560 patterns

SD card slot - SDHC compatible

Dimensions (WxDxH): 177 x 276 x 70 mm

Weight: 1.1 kg

Incl. a Quick Start Guide and an external power supply (PSD-230)
Connections:
Stereo line output: 2 x 6.3 mm jack

Stereo headphone output: 6.3 mm and 3.5mm jack

Stereo line input: 6.3 mm jack

Microphone/guitar input: 6.3 mm jack

MIDI In/Out: 2 x 3.5mm jack

USB-C port for USB audio and MIDI
Available since
November 2021
MIDI interface
1x In, 1x Out
Special Features
Pattern Sequencer
It doesn't always take a studio to spark musical creativity, because sources of inspiration for new grooves, beats, or instrumentals can be found just about everywhere. This is exactly where the compact SP-404MKII sampler from Roland comes in: Battery-powered and packed with massive internal storage and a pattern-based sequencer as well as all the necessary inputs for connecting a microphone, instruments, a laptop, and a pair of headphones, it is the ideal tool for recording loops on the fly and editing samples using auto chop and resampling directly afterwards. The SP-404MKII comes with a wide range of proven standard and lo-fi FX that allow genre-specific effects to be added to beats, and its smooth workflow ensures not only creative beat programming but also performances with just the right groove.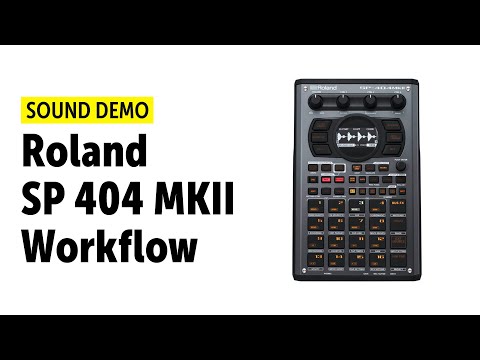 FX-powered groove sampler
This polyphonic sampler with 32 voices and 16GB of internal storage also allows additional samples and data to be stored externally on an SD card (sold separately) as well as new samples to be recorded via its microphone, guitar, and line inputs. All in all, the SP-404MKII offers music makers up to 16 projects comprising 160 samples each. The user-friendly sampler is equipped with 17 dynamic RGB-backlit pads for smooth pattern selection and a vivid OLED screen for easy sample editing and convenient handling even in poor lighting conditions. What is more, instant creative sound design is easier than ever thanks to the improved resampling function, and the range of effects makes a convincing case thanks to vinyl and cassette simulators, a resonator, and a DJFX looper. Special moments during a performance can be easily captured and resampled thanks to continuously active 40-second skip-back sampling.
Sample-based beat making
Grooves that are almost entirely made from samples are particularly popular in Hip Hop including all of its subgenres, but also in the Breakbeat, Minimal, and House scenes, where the SP-404SX and SP-404A predecessor models have been maintaining a loyal fan base for over 20 years. And although the new SP-404MKII comes with a software editor, which allows samples to be edited in even greater detail and projects or entire sample packs to be imported from the Roland Cloud, it has been specifically designed for those who prefer to work entirely or partly without a PC. And to stand out from the crowd visually, musicians can also personalise this sampler with their own customised skins.
About Roland
The Roland company was founded in 1972 in Osaka, Japan, and has been designing and building electronic musical instruments ever since. During its successful history, Roland has launched many ground-breaking instruments, from legendary drum machines such as the TR-808 and the TR-909 to synthesizer classics like Jupiter-8, SH-101 and the iconic TB-303. Besides synthesizers, Roland's workstations and electric pianos are also very popular. Equally well-known is Roland's subsidiary Boss, under whose brand name it designs and sells principally guitar pedals and effects units. Under the Roland Professional A/V label, the company additionally develops and distributes professional equipment for virtually every branch of audio and video production - from home studios through to commercial applications.
Sampler or digital decks
The Roland SP-404MKII features an intuitive 4x4+1 pad grid that is perfect not only for launching and chaining drums, sample chops, and loops to create new dynamic grooves but also for finger drumming to add fresh beats. The included lo-fi FX allows individual samples or entire grooves to be edited and resampled with an authentic vintage sound and leaves more space for additional applications on the effects processor. Building a song step by step and creating entire tracks for a wide range of genres has never been easier, and the files can be seperately exported to a DAW. In the new alternative DJ mode, the SP-404MKII simulates two digital decks with all functions that are required for live DJing, such as two-channel mixing, cueing, synchronising, and editing. This makes the Roland SP-404MKII a powerful tool for artists who want to complement their live performances with an improvised mini DJ set.
This is what customers who viewed this product bought