Master Keyboard
88 Key master keyboard in stage piano design

88 Wooden keys with RM3 Grand II Hammer action

Key mechanism with 3-way sensor system

Pressure point simulation and IvoryTouch keys

Configurations: Normal, Ivory II, Pianoteq, Galaxy Vintag D, Alicia's Keys

Graphic interface

Any number of touch curves with any number of points

Touch learn function

Velocity off set for one key

MIDI/USB routing

MIDI send channel

Free pedal assignment (VPC editor compatible with Windows XP/Vista/7/8) connectors: 3-Way pedal

MIDI in/out

USB to host

Power supply via USB (1.0 W) or DC 12 V power cord (3.0 W)

Dimensions (W x D x H): 1380 x 425 x 185 mm

Weight: 29.5 kg

Including F-30 triple pedal with half damper function, sheet music stand, power adaptor and manual
available since
February 2013
Pitch Bend / Modulation
No
MIDI interface
1x In, 1x Out
Sustain Pedal Connection
Yes
Dimensions
380 x 425 x 185 mm
Speacial Features
incl. F-30 -Pedal
The ultimate MIDI controller for virtual pianos
Kawai's VPC1 is a master keyboard that delivers the experience of a grand piano like no other, allowing virtual instruments, to quote the manufacturer, "to feel as good as they sound". Its 88 wooden, graded, and hammer-weighted keys recreate flawlessly the exceptional touch of a fine concert grand. Moreover, this touch sensitivity can be tweaked and customised via dedicated software - a very useful feature when creating the perfect emulation. Handy presets are also provided for existing virtual pianos in this respect. To top things off, a proper grand piano pedal unit is also included, which consists of three sturdy and weighted pedals preconfigured for damper, soft, and sostenuto. The VPC1 easily connects to a DAW, either via USB or MIDI.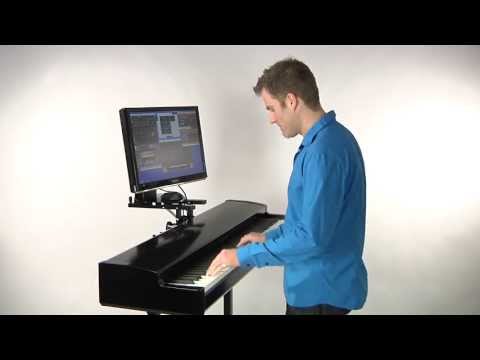 Real piano keys
The VPC1 is equipped with Kawai's RM3 Grand II action. Each key is kitted out with three sensors, which combined with pressure-point and let-off simulations allow for extremely subtle control, even at the softest intensities. The keyboard features a realistic graded-hammer action, including bass note counterweights, perfectly replicating the mechanics of a real grand according to each note's position on the keyboard. The key surfaces, dubbed IvoryTouch by the manufacturer, emulate ivory surprisingly well, further enhancing the experience.
For a flawless performance
The VPC1 is designed specifically with virtual piano lovers in mind, along with their favourite DAW environments, virtual instruments, and plug-ins. The keyboard's superb action and pre-programmed velocity touch curves coupled with infinite tweakablility allow each pianist to fully immerse themselves in the instrument of their choice in the most realistic way possible. Established piano emulations such as IVORY II, PianoTeq, Galaxy Pianos, and Native Instruments Alicia's Keys each have their corresponding preset, for an immediate "out of the box" experience. Music producers will doubtless also find the VPC1 a welcome addition to their existing environment, allowing experienced pianists to record their parts elegantly, successfully, and with ease.
About Kawai
Kawai is a Japanese manufacturer which has specialised in building upright and grand pianos since its inception in 1927. Since 1986, Kawai has also been producing digital pianos. Right from the start, the name "Kawai" stood for innovation: For example, Kawai produced the first digital piano with keys made entirely of wood, and also made the first keyboard to truly replicate the action of a grand piano. The list of artists who have chosen Kawai is long, and it includes both Classical pianists like Warren Mailley Smith, Ashley Fripp, and Mikhail Pletnev, and popular keyboardists like Herbert Grönemeyer, Ingo Reidl (Pur), and Don Airey (Deep Purple), among others.
Easy to configure
A single USB or MIDI cable connects the VPC1 to a DAW (a 12V power adapter being required when connecting via MIDI cable). The three pedal inputs (damper, soft, and sostenuto) are also situated at the back of the VPC1. The included VPC Editor software is a dedicated application which creates and edits touch curves, adjusts individual key velocities, and manages MIDI routing. All the changes are stored directly to one of the VPC1's five onboard memories, allowing configurations to be recalled at any time. In keeping with its quest for realism, the VPC1 has no knobs, sliders, or any other extraneous controller - and its sturdy construction of wood and aluminium will ensure a long life and many hours of playing pleasure.
This is what customers who viewed this product bought