USB Audio Interface
USB 2.0 audio interface, 18 x 20

Up to 24-bit / 96 kHz

18 Inputs and 20 outputs: 8x XLR / 6.3 mm jack combo microphone / instrument / line input, switchable

MIDAS designed preamp

2 ADAT / SPDIF optical inputs and outputs (S/MUX capable)

2 Coaxial SPDIF inputs and outputs

10x 6.3 mm jack line outputs (1 + 2 monitor output L/R)

+48 V phantom power can be enabled

Pad switch for each input

Gain control per input

Main output gain control with mute and DIM switch

Monitoring control with stereo / mono switch

2 Separate headphone outputs with control

MIDI input and output

External power supply

Compatible with Windows XP / Vista / 7 / 8 / 10 and Mac OSX

Design: 19" / 1U
Recording / Playback Channels
18x20
Number of S/PDIF Connectors
1
Number of ADAT Connectors
1
Numer of AES/EBU Connectors
0
Number of MADI Connectors
0
Max. sample rate (kHz)
96 kHz
Max. resolution in bit
24 bit
Connection Format
USB port Type B
Included in delivery
USB cable, Power cord
Zero latency monitoring
1
The great U-Phoria
The Behringer U-Phoria UMC1820 is the largest iteration of the affordable U-Phoria series. The 18-in/20-out USB audio interface in rack format can be used with Windows and macOS and operates at sample rates up to 24 bit/96kHz. The eight analogue input channels are equipped with microphone preamps developed by the established British manufacturer Midas, promising a sound that is as neutral as it is high-quality. With its versatile features and high connectivity, including expandability via digital connections, the U-Phoria UMC1820 offers all of the prerequisites to master even the most complex recording situations in the home or project studio.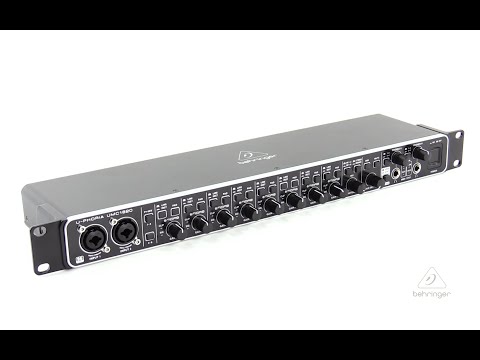 Central audio interface
All analogue inputs of the Behringer U-Phoria UMC1820 are designed as combo sockets and can be used to connect both microphones (phantom power switchable in groups of four) and line sources. At the push of a button, they can also be converted into instrument inputs for connecting guitars and basses. The rear main out and two powerful headphone outputs are separately adjustable, with a mix control to adjust the balance of input and DAW playback for latency-free monitoring of input signals. In addition, eight further line outputs open up extensive possibilities for playing cue mixes or using hardware effects. But the U-Phoria UMC1820 offers a wide range of connection options not only on the analogue side, but also on the digital side with coaxial S/PDIF (two channels) and optical ADAT (up to eight channels) connectivity.
High connectivity for beginners
As an affordable USB audio interface with eight high-quality microphone preamps, ten analogue outputs and expandability via digital interfaces, the Behringer U-Phoria UMC1820 is a good choice for beginners who want to be prepared for extensive recording sessions. In addition to a variety of audio connections, an internal MIDI interface also allows for the direct connection of several keyboards or other controllers such as drum pads without taking up USB ports on the computer. In general, the U-Phoria UMC1820 feels particularly at home in a larger home or project studio, although mobile recording or use on stage is also possible without any problems. The interface can be mounted in a portable 19" rack, for example, but also fits into any backpack.
About Behringer
The company, which was founded in Germany by Uli Behringer and now manufactures its products in China, has been known for affordable and great-value equipment since its very first product, the Studio Exciter F. An array of mixing consoles (such as the Eurodesk MX8000), signal processors, and later sound amplification and monitoring equipment, has made it possible for countless musicians to fit out their home studios, practice rooms, and mobile PAs within budget limits that were previously unthinkable. The acquisition of other companies, including Midas, Klark Teknik, and TC Electronic, meant that new product groups were added - and also resulted in the technical expertise of these companies being incorporated into product development.
Additional channels via digital interfaces
If you are planning live recordings of your own band or extensive drum recording with many channels, you can expand the Behringer U-Phoria UMC1820 via the available digital connection options. Particularly interesting in this respect is the optical ADAT port, which can process eight additional channels in both directions at sampling rates up to 48kHz. At a full 96kHz, this number is halved by sample multiplexing. In principle, the U-Phoria UMC1820 can be connected in this way to all preamp modules that offer a corresponding interface. An obvious option is, for example, the Behringer ADA8200 Ultragain, which is also very reasonably priced and provides eight preamps as well as eight additional outputs. The clock synchronisation also runs via ADAT.
This is what customers who viewed this product bought