Electric Drum
Complete e-drum set for beginners

Thanks to its compact dimensions and small spaces, it is also ideal for children and very space-saving

10 Drum kits

120 Sounds

30 Patterns

Metronome 30-280 bpm

Line output: 2x 6.3 mm jack

Headphone output: 3.5 mm stereo jack

Aux-in: 3.5 mm stereo jack

USB-MIDI

Includes seat, sticks, headphones and wiring
Set configuration:
4 x 06" Mesh head pads

3 x 10" Cymbal pads

Bass drum and hi-hat pedal
Available since
November 2020
Definitely not a toy
With the Alesis Debut Kit, the American manufacturer has designed an e-drum set that, thanks to its compact design and low setup height, is aimed specifically at the youngest beginner drummers. The technical features hardly differ from the "big" Alesis kits. 10 drum kits, 30 play-along tracks, and a lot of practice functions ensure long-lasting playing fun. To enable the youngsters to start drumming right away, the scope of delivery includes a drum stool, headphones, and a pair of drumsticks. The module also offers the option of accessing 60 free exercises via USB connection using the "Melodics" app.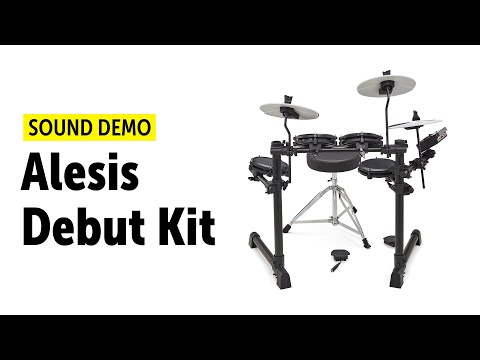 Professional features in a compact format
The Alesis Debut Kit offers an easy introduction to the world of drumming for very little money. Outstanding features include low-noise, joint-friendly mesh head pads and a module with 10 drum kits, which include realistic recreations of acoustic drums as well as electronic and percussion kits. While the module offers 30 songs for playing along, it is also possible, for example, to connect a smartphone via the AUX input in order to drum along to your personal favourite songs. Space-saving foot switches are available for the hi-hat and bass drum functions. As with a professional e-drum set, all of the components are attached to a stable yet lightweight drum rack, which can be easily transported by one person.
Early practice makes the master drummer
For children in particular, drums are still very popular when it comes to learning an instrument, and while a good selection of acoustic drum sets for children is now available, good-sounding and practical e-drum sets for children are still hard to find. Or at least they have been until now, because the Alesis Debut Kit has everything a child starting to play drums needs: A complete e-drum set with four flexibly positionable drum pads, two foot controllers, two cymbal pads, and a hi-hat. Additionally, the package includes a child-sized stool, headphones, and a pair of drumsticks.
About Alesis
Alesis was founded in 1984 by Keith Barr in Hollywood, California, and has become one of the leading manufacturers of signal processors, drum machines, synthesizers, and other studio equipment. The company's most successful products during its early years were the MIDIverb, the HR-16 drum machine, and the ADAT multitrack digital recorders. In 2001, Alesis was acquired by Numark owner Jack O'Donnell and is now part of his InMusic parent company alongside brands like AKAI, Denon, and many other well-known names in the audio manufacturing industry. Alesis has also been a major player in the field of e-drums for many years and offers a large choice of products in all price ranges.
The quiet alternative to an acoustic drum set
When buying the first musical instrument for a child, most parents don't want to spend too much money - after all, you can never tell how long the initial euphoria will last. Still, they want to have the feeling that they have bought a real instrument and not a toy. The Alesis Debut Kit meets both criteria. It is affordable and can definitely hold its own against a regular e-drum set, as it offers the same sound quality, the only difference being that it comes in a more compact, child-friendly format. The low height enables even children as young as four to sit down on a "real" drum set and drum away. And unlike an acoustic drum kit, an e-drum set has a volume control, which will be particularly appreciated by parents and neighbours.