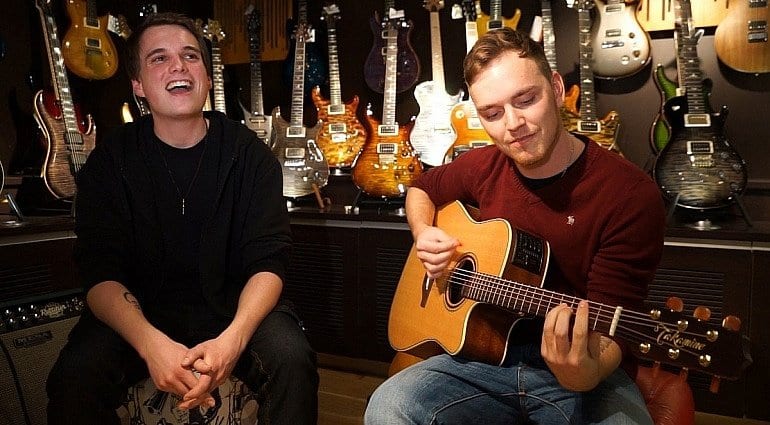 X-Mas Song Contest winner in Treppendorf
X-Mas Song Contest winner in Treppendorf
After several exciting weeks with many really great song contributions and an excellent final we, with the help of the Thomann-Community, chose the winner of the X-Mas Song Contest: The official Thomann-X-Mas-Song 2015 is called White White Lies, written and recorded by LAMA. The winner could look forward to his prize which consisted of a VIP-Trip to Thomann in Treppendorf with an overnight stay in the world heritage city of Bamberg and a Thomann-voucher worth 500 Euro.
About the Songwriter and White White Lies
Last Friday the time had come: we had the pleasure of welcoming the winner of the X-Mas Song Contest, as well as his friend and "bodyguard" 
Rob, when they joined us in Treppendorf. Of course LAMA is his stage name, in daily life he goes by the name of Matthias and he is 23 years of age.
He had heard of the Thomann X-Mas Song Contest by way of Facebook. Matthias has been playing the the guitar for about six years, but singing has always been at the centre of his attention. Now and then Matthias jams with Rob, who also has been playing guitar for years, their jams take place in the bathroom of Matthias' student house. 
They met each other at a Jamsession in their home city. Rob would certainly also have contributed to the contest were it not that they are studying in different cities. White White Lies is a very personal song which deals with the theme of memories and desires that people cling to.

What the friendly and elated young guys experienced during their VIP-Trip – from having lunch with Hans Thomann to a exclusive logistical tour through the "hallowed halls", to a walk of discovery through the Thomann store and in the city of Bamberg – can all be seen in our video …