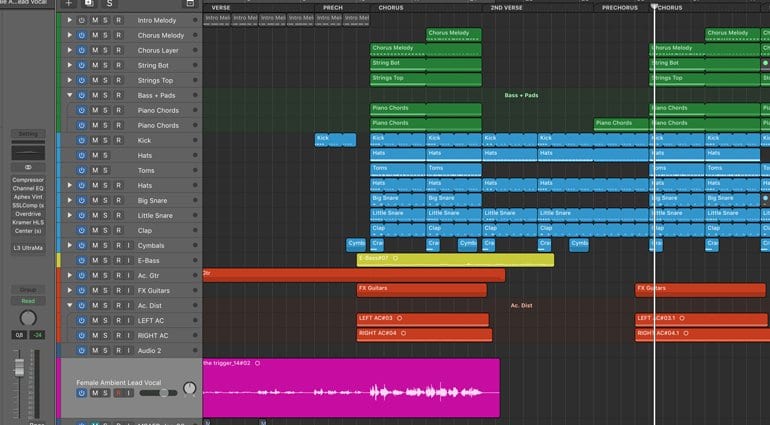 If you want to create music with a computer, you will first need the appropriate software in order to turn your high-tech typewriter into a "digital audio workstation", or DAW for short.
---
Early in the digital history, engineers designed synthesizers or effects but did not yet have the technology to make an audio recording on the computer. These first steps quickly led to design a communication language (now standard) called MIDI and which lead to the development of early sequencers.
Audio recording computer software were later developed and incorporated the MIDI sequencer, and effects. With Steinberg's VST technology, the world of digital audio were able to develop third-party software (called plug-ins) for effects or synths or drum machines that could be connected to the main audio/MIDI sequencer . The sequencer software is then called a "host", since it supports a multitude of other software (there are thousands today!) And allows you to access an infinite number of sounds and sound characteristics.
Sequencer, DAW, recording software, whatever the name – you should be able to easily create music and have fun in the process!
PS: You can now easily download software licenses in our Thomann Download Store! without ha
Here is a brief overview of the most famous and important sequencers

Reason is unique and best suited for beginners – but it is of course not limited to novices! Like in a real "analog" studio, you can combine various types of (digital) equipment using an intuitive and attractive graphical interface that makes Reason one of the most user friendly DAWs available on the market.
Reason has a good selection of effects and instruments on board, however, the usual third-party plugin formats such as VST and AU aren't directly supported. The synths and effects are all very good and, above all, resource-conserving. The selection concerning sampled instruments is also good, but not comparable to the major libraries such as Native Instruments, EastWest etc. Nevertheless, Reason is still an excellent DAW to take your first steps into the world of recording and producing material in a few easy steps.
At one time it was not possible to record directly in Reason , when it was still purely as thought of as a sound generator. But those days are long gone and Reason is also very popular among self-recording singer-songwriters, largely due to the simple design of the arrange and mix window. In addition, there are loads of special effects such as amp simulations for guitarists and bassists.
Reason is a product suitable for all and highly recommended for those who want to produce music quickly and easily – but in handling very large audiovisual projects there are specifically optimized programs which are more suitable.
Fruity Loops follows a similar concept as Reason, but with the possibility to operate VST plug-ins, and this allows you to expand the program as desired!
Just like Reason, FL Studio comes from the field of original sound generators, but can now also produce more extensive audio recordings. It offers a variety of playful approaches, such as the pattern-based beat creation, which is very popular among modern music styles such as techno and hip-hop. Many successful producers swear by the compositional possibilities of "Fruity Loops", which by its original name falsely conjures up very childlike associations.
FL Studio's FLI GUI is minimalist and kept sober, which significantly contributes to the result-oriented workflow of the software. The extreme ease of use, coupled with a concept of immediate composing and producing music and the ability to use their own plug-ins freely, make FL Studio a very good choice for any type of musician. Furthermore, lifetime free updates are also included!
Apple Logic
Logic has been part of Apple for quite some time and is only available for the macOS platform. It is still one of the most widely used DAWs, is one of the best all-rounders mastering the balancing act between a sober editing tool and a creative production tool. Basically there's no restrictions and you can bring your project to a larger studio and expect support. Logic is also extremely complete and available at a very good price.
Logic, like Reason, and FL Studio, is rather a composition tool, ideal for creating MIDI arrangements, be it with plug-in instruments and/or hardware synthesizers instead of the typical recording program. The included instruments are progressive and provide ample inspiration. This is not to say that you cannot record, edit and mix with Logic. And with many small professional tools and advanced options, specialists like Pro Tools and Cubase will have to stand out and innovate!
Pro Tools is THE industry standard in large studios, which is mainly determined by the American market. Professional work is often assimilated with the presence of Pro Tools software. Beyond the historical context, the relevance of Pro Tools fades with increasingly competitive competition. Previously, having Pro Tools required specific hardware acceleration processing that, at the time of simple core processors, enabling huge professional projects with a large number of tracks and effects. Now only software performance is required and the supported plug-in interface is in AAX format.
One of the biggest advantages of such an, admittedly rather expensive, system, is still, the ability to record (even in tightly packed projects) without losing the possibility of listening in real time. The mixing of tracks, effects and virtual instruments is the finest and most detailed, thanks to the quality of its processing of the various plug-ins and the ability to compensate for this processing time.
In addition, the editing capabilities in Pro Tools are of the highest level because the program was designed specifically for these three purposes: recording, editing, mixing. The possibilities of creating sounds using virtual instruments were added quite late and is more of a nice addition rather than a basis.
The learning curve is very steep with Pro Tools, however, if you can get into it and master the appropriate keyboard shortcuts, you will surely belong among the fastest in audio processing.
Cubase has been a popular MIDI sequencer for over two decades. It is also a common middle ground between Logic's great Composer capabilities and Pro Tools' processing. In recent years, Cubase has been able to gain a significant spot in the market, especially because the product and price policy of AVID (Pro Tools) is often prohibitive.
Cubase is very powerful and offers a lot of configuration possibilities to customize the software to your own needs, because the various possible workflows are very different. Whether it's record editing or computer-aided music composition, Cubase can do it all! The now very comprehensive software includes impressive virtual instruments that are very extensive and provide a very good foundation. Not as popular as Logic, but definitely more inspiring than Pro Tools. The Steinberg VST plug-ins are of course integrated into Cubase. In terms of editing, Pro Tools is often considered to be faster and less complicated with its direct access possibilities and sober look.
Ableton Live is unorthodox, but is also a complete DAW especially popular for electronic artists, because of its peculiar characteristics. First of all there is its "non-stop" approach, which means it's not required to stop the music during most operations and processing, and so you can continue to work without interrupting the creative process. Thanks to playback quantization, you can jump back and forth between individual parts of the arrangement without dropouts or tempo changes! The DAW is your instrument, so to speak.
The clip matrix is another feature worth noting, an archive for audio samples, complete tracks, but also MIDI clips with assigned virtual instruments that lets you combine and play them at will. This way it is possible to create several variants of totally different arrangements among themselves to use in the studio and especially live, the context in which Ableton wins: backing tracks, different DAW modules, effects (basic but definitely usable) and several racks make it easy to handle. Furthermore, you can also use external VST and AU.
The GUI of Live is very clean, minimalist and completely free of the unnecessary. The tools are precise, but also somewhat limited: here, programs with the classic editing, such as Cubase, Pro Tools and Logic, once again take the lead.
Studio One is a relatively young DAW – and as such brings a crucial advantage: the code is fresh, young, efficient and free from years and years of change. The developers were able to take advantage of the best aspects of existing DAWs and pack them into one program – and even improving them.
Presonus Studio One is a mix of very useful features, complex editing and ease of use. Despite the young age of the software, the team Presonus is not to be underestimated, as it is composed of old Cubase developers.
Thanks to its wide use of drag and drop, this DAW is very workflow oriented and is extremely simplified. The "single window" philosophy, for example, allows more control, and songs are organized into "projects" which ultimately benefits the finalizing and mastering. The scratch pad feature offers the possibility to experiment with alternative arrangements without destroying the "original song" and, through the integration of Celemony Melodyne which is an incredibly good tool for pitch and intonation processing, which has established itself as the tool for vocal correction in addition to autotune. Studio One also has plenty effects and instruments on board.
Studio One is particularly suitable for newcomers – because seasoned players generally remain loyal to their first DAW. And in terms of the many ingenious details, extensive equipment and good value for money, Studio One is great choice.

Which do you personally swear by and why?
We look forward to your comments!