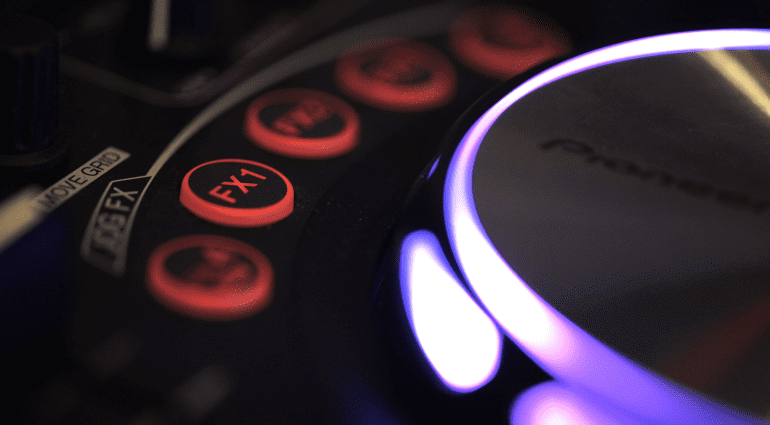 Top 5 DJ Controllers for beginners
Top 5 DJ Controllers for beginners
Navigating through the vast jungle of DJ controllers in today's market can often be quite challenging to a beginner. Jog wheels, loop and effects controls, microphone inputs, integrated sound cards and a variety of controllers offering multiple features to enhance your mix. We selected five controllers so beginners can start mixing from their computer and make their first steps into the world of DJ'ing. Enjoy!
---
Pioneer are renowned for their build quality and longevity. This controller is powered by USB and has an integrated audio interface. This entry-level model from Pioneer is equipped with a 2 channel mixer with 3 band EQs and 2 large knobs to mix and scratch your music with precision. It offers plug'n'play and works seamlessly with well-known software Serato and comes supplied with the "Intro" version.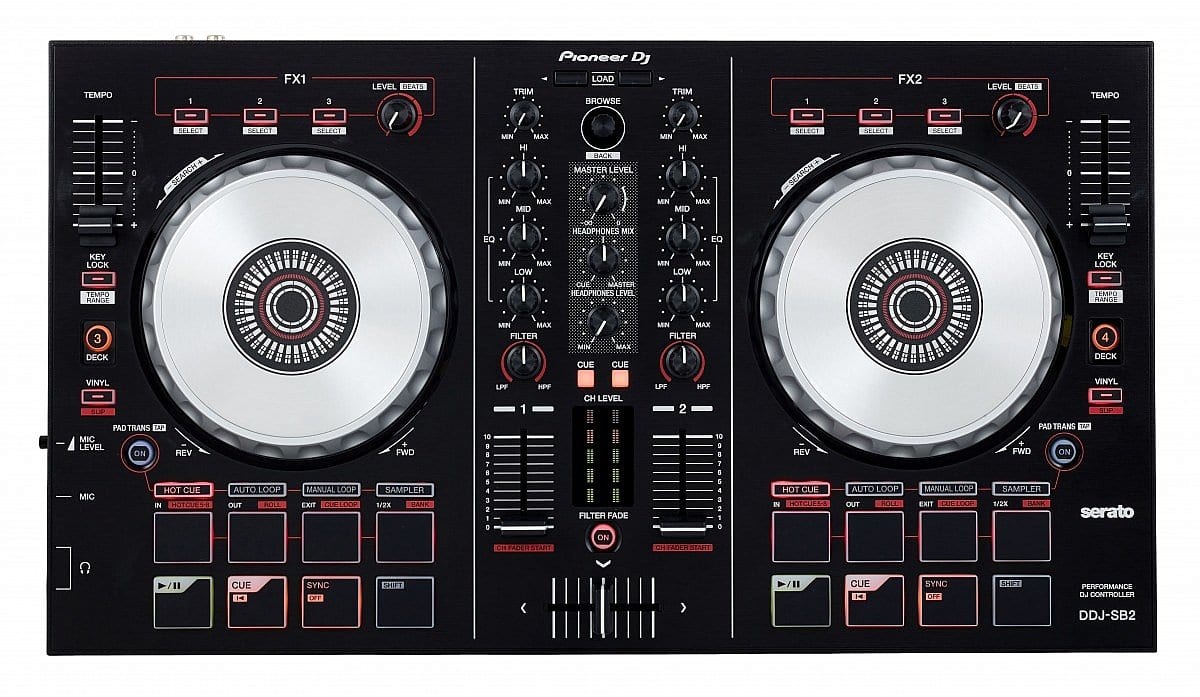 This DJ MIDI controller with auto configuration and Serato DJ Intro is simple and compact, but that does not mean it's only intended for the amateur DJ. It has 2 channels, 2 decks with large flat aluminum wheels, a thorough performance pad section dedicated to control loops, samples and hot cues and Split mode to combine CUE and sampler. The integrated sound card provides an RCA audio output and two headphone outputs as well as a microphone input.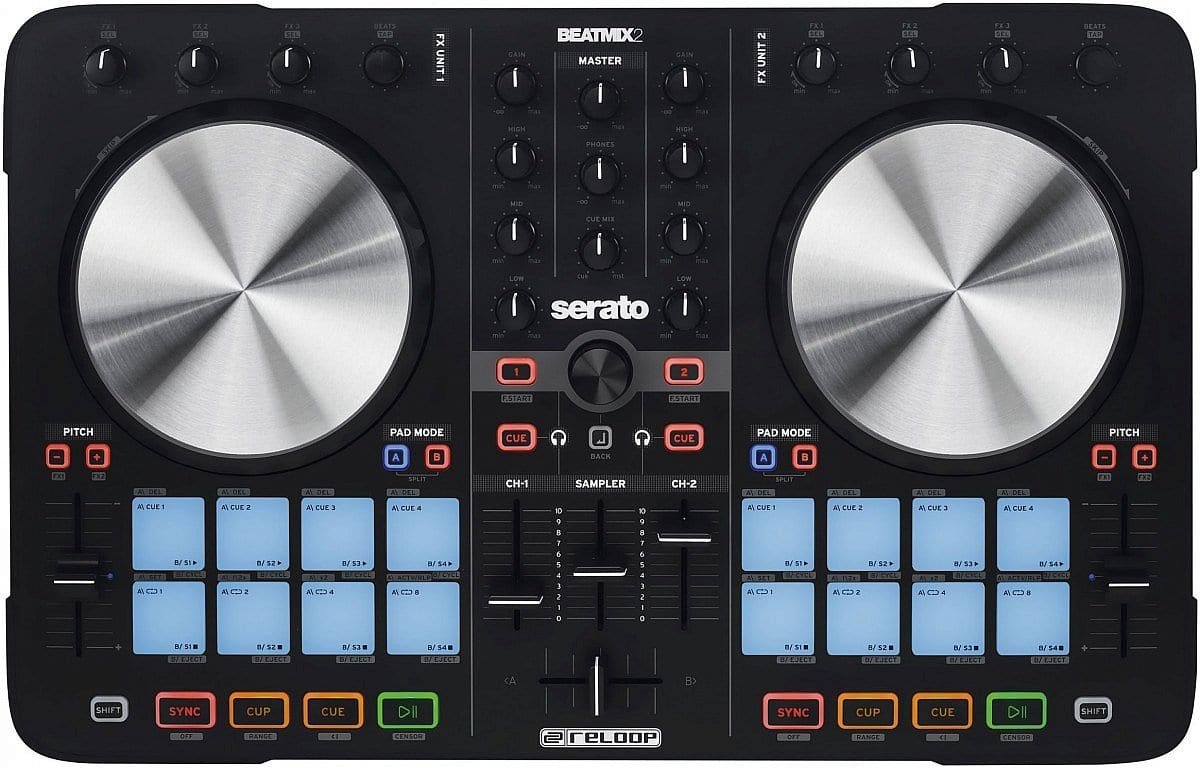 This controller is equipped with a 4 track mixer, 3 band EQ, an adjustable filter per channel, a 24-bit sound card and 16 RGB performance pads. This version was designed in collaboration with Serato to be compatible with the Serato DJ Intro software and Serato DJ. It also offers various input / output connections including USB input, Headphone output, RCA output and mic input.

Numark has chosen for a modern and innovative design. They have given their controller a facelist with a more professional look compared to its previous versions and has all the functions for a beginner DJ to get started. Among these are, a USB audio interface, touchstrip for dynamic effects and strip search, multifunction control buttons and adjustable filters per channel. It is highly suitable for DJs who are searching for a practical and intuitive controller.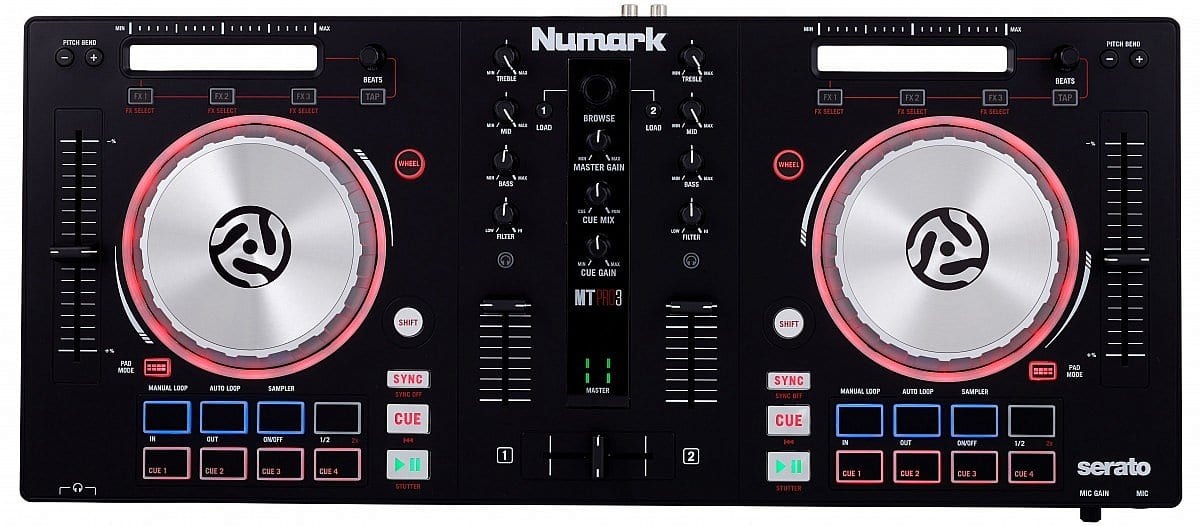 The Traktor Kontrol S2 is compact, mobile and intuitive. It is equipped with an arsenal of DJ effects: Solid buttons, precise jog wheels, vivid RGB backlit buttons and works with TRAKTOR PRO 2 software, a favorite among many DJs. The audio interface is of high quality and is equipped with 2 balanced stereo outputs. In addition to the equalizers and mixers for each channel, there is a Remix button and FLUX function, which allow you to bring your mixes to a whole new level and unleash your creativity.