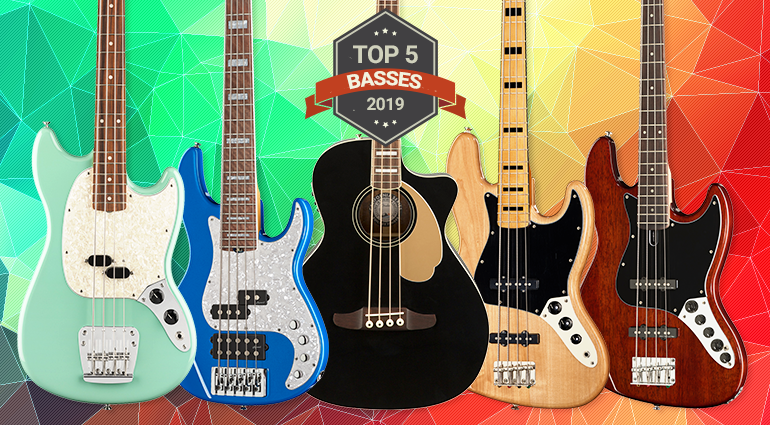 The low end of the frequencies spectrum is what hits the hardest, it shakes bones, it rattles teeth, it vibrates walls and floors. The bass guitar is often responsible for this and we'd like you to be capable of producing these kinds of results. That's why we've compiled a Top 5 list of Basses from the year 2019…
?⚡
---
Marcus Miller rarely disappoints with their basses, and the V3 2nd Generation is definitely no exception. You still get the excellent build and versatility in tone and style  What has improved in the new generation is its weight, it is much lighter, the fretboard is rounded at the edges making it very comfortable for your hands and the pickups have been upgraded to 2 Marcus Standard Jazz Bass J-Revolution single coils. A real winner, try it and see!

For this incredible price you're getting top-of-the-line features on this 5-stringer, including a Roswell MA5-B AlNiCo-5 humbucker bridge pickup alongside a Roswell PMA5-N AlNiCo 5 single-coil middle pickup, a modern C neck made of Canadian hard rock maple and the option of active or passive playing. Watch Julia give a full review of this series in this video.

This short-scale bass from Fender is a really good option for those who prefer a smaller size, a slimmer neck and a vintage sound (and look)! It's got all the good stuff you can expect from Fender in a small and stylish 19-fret bundle. Check the product page for full specs.

Get that indispensable '70s sound and vibe with Squier's latest addition, the Classic Vibe '70s Jazz Bass, with its two Fender-Designed Alnico single coil pickups, maple neck and fretboard and unbelievable price. You won't exactly get that Fender Jazz Bass sound, according to Julia, but you get one hell of a bass for an outstanding price.
This is the first time that an acoustic bass is featured on our Top 5 lists and the designers and luthiers of the Fender Kingman V2 have well deserved it. Its unique black, gold and silver look (with cutaway) is outstanding as is its sound, blasting through a Fishman Presys+ pickup system and preamp.
---
There you have it, straight from the low end, the Top 5 Basses of 2019. Which ones have you tried? Which ones would you add to the list? Let us know in the comments.
---
Anyone interested in last year's top 5, please check out the video below: