Choosing the right guitar strap
Choosing the right guitar strap
Although guitar straps are an indispensable accessory especially for e-guitarists, it is still often overlooked. The first guitar straps were of the clothesline variant, tied around the necks of 4 plus kilo heavy electric guitars and bass guitars. This led to ergonomically unfavorable conditions, and the start of a thriving industry in guitar straps.
---
These days, anyone in search of the right strap is faced with a confusing amount of choice, as with guitars. This ranges from cheap, plastic belts to more expensive handmade leather variants.
What makes a good guitar strap?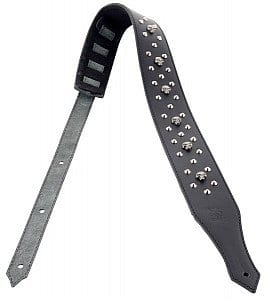 When you consider that a guitar with a solid body, such as a Gibson Les Paul or a Fender Stratocaster usually weighs a good three to four kilos on the shoulders (some models even more) – then the belt itself should also be able to withstand this weight in the long term. And on top of that, still provide all the necessary freedom of movement, especially what's required on stage.
It should also be comfortable to wear, spending many hours on your shoulder. Not only in well-ventilated rooms, but also in open air festivals during hot summer days and perhaps even on bare skin.
And last but not least are looks! Many guitarists may also want the strap to match a certain outfit or make a statement. A pop guitarist might not necessarily go with a studded black leather belt, and a death metal shredder may pass on a fuchsia nylon variant. They can if they want, of course!
The Attachment
As you know, the entire weight of the guitar is only supported by two relatively small strap buttons. In cheaper belts, this is often where the problem lies, as the weight is concentrated around the hole at the end piece of the strap. Too many a guitarists and bassists have experienced those horrific moments in their career when their instrument came crashing down because of a torn strap-hole.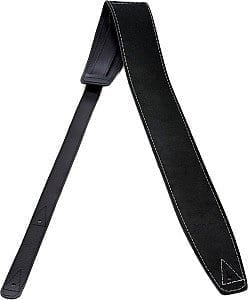 If not completely made from leather, many belts at the very least have end pieces made of genuine leather, which is a general sign of quality. Often enough, strap-holes such as the Harley Benton suede strap are reinforced with a seam.
Some guitars feature strap or security locks instead of the classic strap buttons. This a two-piece strap-holding system, in which the strap button is fastened to a base lock and the strap belt itself. Both parts have to be unlocked specifically in order to unfasten the strap, which prevents accidental detachment. Either way, you should still always look out for sturdy end pieces, as the lock is useless if the strap fails. The Di Marzio Clip Lock Strap, uses two short strap ends which are screwed directly to the guitar instead of the strap buttons and are connected to the actual shoulder part with closure clips.
The Material
As mentioned above, guitar straps come in a wide variety of materials, such as leather as well as various natural and synthetic fibers.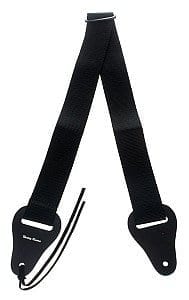 In the case of inexpensive belts, nylon, is often the standard, which is not only extremely stable, but can also be easily dyed, as indicated in Planet Waves PWS111. The Thomann nylon strap shows that even inexpensive nylon straps aren't without sturdy leather end pieces. In the higher price ranges, nylon fabric is also often combined with other materials such as cotton or leather, the LM Guitar Strap FF-15 C Jacquard or Taylor Suede / Poly Guitar Strap Copper belong in said range. The Mono Cases The Betty Strap Short combines nylon and neoprene, and has rubber ends instead of leather, which makes it, among other vegan straps suitable for vegans.
Another frequently used synthetic fiber is polypropylene, which has the advantage of being 100% recyclable, an example is the Richter Racoon Beige/Brown strap. Like nylon, this synthetic fiber is extremely durable and tear resistant.
Cotton is a natural raw material also used in straps and not only in combination with other materials. For example, if you're looking for a classic Tweed Strap such as the Fender Tweed Cotton Strap Gold to match the classic tweed amp.
Of course, the development in guitar straps does not stop there, as many manufacturers are experimenting with plastics and other natural materials such as hemp, flax, linen or felt.
By far the most widely used natural material for guitar straps remains leather. Because this material has many different sources and can be treated and tanned in a variety of ways, there's a huge variety. And not only in colors and shapes, but also in the tanning methods (chrome or vegetable substances) and whether it's smooth or rough, firm or soft, which all boils down to the many personal tastes. Leather straps range from the simple unseamed Thomann Guitar Strap for under ten euros to the exclusive Richter Beavers Tail Dragon BK with genuine pearl inlays, for nearly four hundred euros.
Important factors
Although personal taste plays an important role when selecting a guitar strap, there are certain factors that shouldn't be ignored.
Width: The heavier the instrument, the greater the shoulder support should be. Standard straps are usually between 5 cm and 8 cm wide and the narrower the less comfort it offers, however a wider shoulder pad can be attached to the neck.
Length: Most straps are adjustable in length and it's recommended to measure the approximate distance along the shoulder from one strap button to the other. If you like to play your guitar at knee height, then you should consider an extra long version such as the Thomann Nylon XXL Strap.
Fit: Basically, your strap has to be comfortable. Therefore, you should "try" it on properly, preferably with your instrument. One person might be happy with a simple flat leather belt, while the other needs a thick neoprene type padding on their shoulder.
Material: In our brief overview you learned the most important materials and some of their characteristics. Try to remember your last gig, if you left the stage just as dry as you entered it, then you have a free choice. If perspiration was excessive, smooth leather straps will become slippery, as well as nylon or other synthetic fibers. You may want to consider a suede or raw leather strap or a fabric strap which can deal with the moisture better. Polypropylene is also suitable in these events, as this material is often used in functional clothing for athletes.
What else?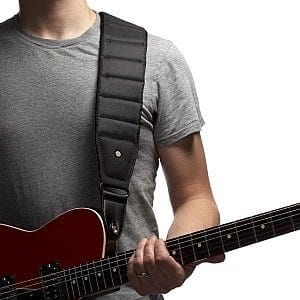 Many standard guitar straps come with additional cords that are intended for acoustic guitars. While the strap at the lower end is fastened to a normal strap button, the other end is tied around the neck at the beginning of the headstock under the strings and behind the nut. Nowadays, more and more acoustic guitars have a second strap button at the neck base, so that any standard strap can be used.
Classical guitars on the other hand, don't usually have strap attaching possibilities. In these cases the Harley Benton strap for classical guitar can be hooked onto the sound hole and allows you to play while standing.