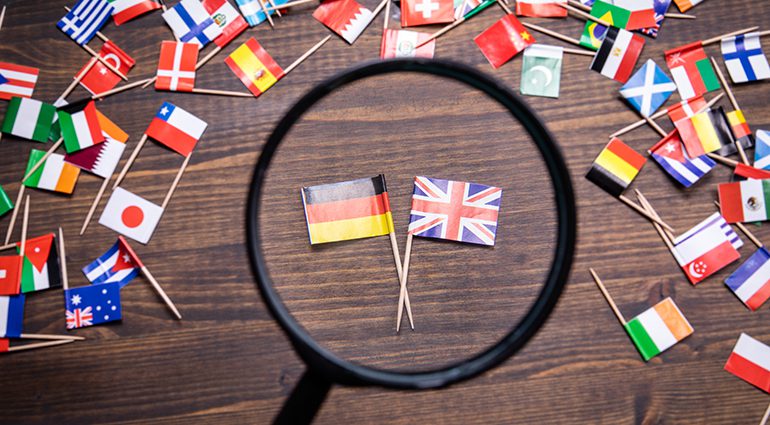 Brexit: An Update for our valued UK Customers
Brexit: An Update for our valued UK Customers
"I placed my new order at Thomann as I frequently do but now I see that I will have to pay duties on delivery?"
"I didn't know that now extra fees will apply on deliveries from EU based stores"
"VAT is not included in the prices?" 
"VAT stands for Vicious Aggressive Tone, right?" 🙂 
---
Lately, these are some of the most frequently asked questions we have been receiving from you; our amazing UK customers. Now, we'd much rather be chatting to you about whether the White Album is superior to Sgt. Peppers (it is), or if our warranty covers damage caused by setting fire to your guitar during a gig (it doesn't) but we feel we should take some time and try to sum up the key changes to ordering with us since the implementation of Brexit on the 1st of January, 2021.
First of all, please allow us to introduce ourselves. We are the UK team at Thomann and we are based in a tiny village in Bavaria, Germany called Treppendorf – where there are more drum kits in our store than residents. We are the beautiful, sexy, hipster, talented….modest people that process your orders, answer your emails, take your calls and chat with you online at www.thomann.de. Please do forgive us if we appear a little forward. For those who know us, we are primarily musicians, audio engineers, music producers, DJs and performing artists just like you, and sometimes we tend to forget we're not talking to bandmates!
Now to the serious part
When the UK was part of the European Union's customs union and single market, goods could move freely between the country and member states without customs duties or other fees being charged. However, as of 01.01.2021 the two distinct markets no longer share the same regulatory and legal space. Now all orders between the two markets have to be processed and cleared by the local customs authorities and all goods entering the country have to be declared. 
Post Brexit costs
All EU based retailers sending parcels to the UK now have to fill out customs declaration forms and customers may also have to pay customs or VAT (Value Added Tax) charges, depending on the value of the products and the destination of the order. 
As it is customary with all our customers from outside of the EU, we provide VAT free prices online and any additional customs charges are the responsibility of the customer. 
Now, we understand that with more than 40 years of the UK being part of the EU, many customers may be caught unaware of the fact that the rules have changed since the UK's official exit. This is why we have been communicating this information with you in various ways, on our products pages, at the shopping basket, on the check-out page, on our FAQ and shipping pages and on our Order Confirmation emails. 
So, according to these new regulations, VAT will be added and charged by us after processing an order only if the net value of the items is equal or less than 135.00 GBP or if the delivery will be to Northern Ireland (we'll get back to you lovely folks a little later). We will then send you an Order Confirmation email that will include the new price inclusive of VAT. In these cases, no additional fee should be paid upon delivery.
Orders on or below 135,00 GBP will incur a 8,00 GBP shipping fee. Please note, this is paid to Thomann and is not related to the fees paid to the courier.
The VAT (20%) and possible additional handling fees will have to be paid to the courier upon delivery for all other orders with the only exception being special VAT-free zones (e.g Channel Islands). Additionally, we no longer accept UK VAT numbers except for Northern Ireland.
If you are wondering what those additional fees will be, allow us to share all the information we have gathered so far below:
Government Charges: UPS will take care of all the official paperwork and payment of the VAT on your behalf and they will pass that cost to you on their invoice. From our limited experience so far, the Government Charges consist of the 20% VAT plus a small amount for the paperwork involved (usually around 2.5%).
Brokerage Charges: UPS will charge a minimum of 11.50 GBP for their service.
Important! Don't forget that this is indicative information based on the feedback we have received so far as not every order has the same customs requirements. For further information we advise that you check the costs and procedures in advance with the courier or the customs authorities locally.
Payment Methods: If there is any customs duties payment required for your order, UPS will provide a link that will allow you to make payment online. This can be found on the tracking page and you can track your parcel with the tracking number we will send you with your shipping confirmation email.
Post Brexit deliveries
Retailers are not the only party affected by these new regulations. Couriers have had to adjust their procedures and routes according to the new customs requirements as well and this may now be causing small delays on certain occasions.
New logistics procedures have to be implemented and new sorting sequences have to be introduced to different collection centres. At the same time the increase in volume of parcels along with new border controls, reduced staff and local quarantine measures are not making things easier. However, our courier partners have assured us that they are doing their very best to deliver packages on time and we are happy to inform you that the vast majority of our orders to the UK have been delivered within 3-6 working days from the date of dispatch.
For items exceeding 31 kilos, or heavy goods such as PA equipment, pianos, etc., we have to employ the services of a heavy haulage company. Heavy haulage forwarders have unfortunately not been able to deal with the additional paperwork and customs requirements as yet so they have temporarily suspended all deliveries to the UK.
Should this affect your order, we will inform you in your Order Confirmation email. We are currently working on this matter and we hope we will be able to confirm shortly that this method of shipment is again available for the UK.
Northern Ireland
We think Van Morrison must have been preemptively referring to couriers in post-Brexit Northern Ireland when he sang 'I shall drive my chariot down your streets and cry 'Hey, it's me, I'm dynamite'. As Northern Ireland remains in the single market for goods, we will apply VAT (20%) after you have placed your order and we will then send you an Order Confirmation email with the new price inclusive of VAT. In these cases, no additional fee should be paid upon delivery. Please note, we cannot guarantee your package will be delivered by chariot.
We do accept VAT numbers for companies registered in Northern Ireland and the new VAT number should start with XI. Additionally, large or heavy items that require the services of a heavy haulage company are not affected by Brexit.
Post Brexit returns
We are very happy to inform you that we still offer the 30 day Money Back Guarantee and 3 Year Warranty on most items.
Should you have any questions regarding return procedures after the implementation of Brexit, how much it will cost you to send something back and how customs usually deal with such shipments, please check our online information or contact our Customer Care department:
Email: sc.cc@thomann.de
Tel: 0049 (0) 9546 9223 476
Thomann's plan for the future
While we would truly love to serve you from a store next to KOKO in Camden, or looking over the Waterfront Hall in Belfast, maybe a location in the Barras in Glasgow or next to the Motorpoint Arena in Cardiff, sadly this is not likely to happen in the near future. We remain however focused on being able to offer great prices, Europe's largest selection of instruments and simplified processes to our rocking UK musicians.
As these new regulations only came into effect a few days before the end of the transition period, we are obliged to follow these new procedures immediately. However, as we do understand the frustration of not being able to see the full price on our website as it was before Brexit, we are working on new solutions that would allow us to provide the final prices for you online with no additional charges on delivery.
We are happy to inform you that we have made excellent progress on that front and we hope to implement this shortly, possibly within only a few weeks! So we kindly ask that you refer back to our website for updates as the new process is, you could say, 'oven ready' (too soon?).
We hope you made it this far and that we have covered most of your questions and concerns, even though discussing government regulations may be the single worst New Year's gift ever (even beats the annual gym membership you never asked for). If you have any further questions you know where you can find us!
Phone: +44-2038850020
Email: international@thomann.de
PS: Please forgive any small delay in our email responses. As you know, it usually doesn't take more than a day to get a response from us, however, due to the increased volume of questions and their inevitable complexity given the new regulations, it may temporarily take a little bit longer.