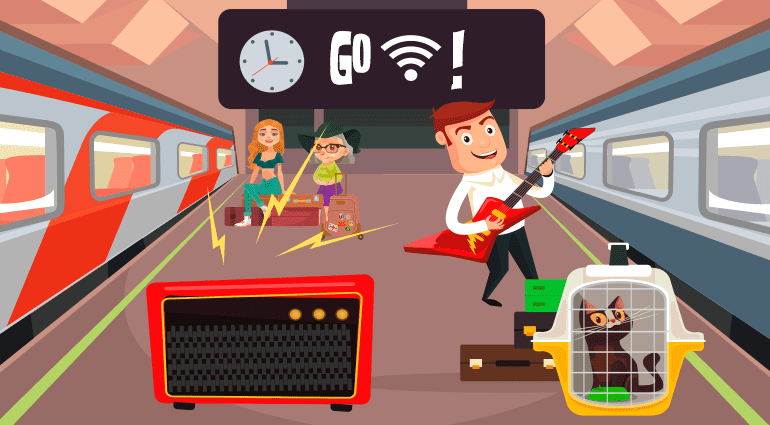 10 Product Tips For Mobile Musicians
10 Product Tips For Mobile Musicians
? #SoundsOfTheStreets ? There are always situations where cables either make no sense or are just no fun. Be it the outdoor gig, the event where simply not enough power connections are available or simply for the freedom to roam around without cables holding you back. Sometimes your gig needs to come and go quickly, as is the case with many street musicians, who usually have to change locations with all their equipment in a jiffy. Each cable removed from the equation makes a difference, from sound transmission via DMX control to power supply. Here is a selection of practical solutions you can use to organise your mobile musician or DJ life…
---
Amps and active speakers
The MBA120W (from the box), a big hit among battery-operated loudspeakers, is an active loudspeaker with features ideal for use on the road. The active speaker is equipped with a USB player, Bluetooth interface and a UHF radio microphone. It provides a full 120 watts of power and the battery operating time is sufficient for approx. 4 hours of music. At 19 kg it is not a lightweight, therefore it includes a solid transport trolley with extendable poles and easy-running castors (swivelling wheels).
Meanwhile the Roland Cube Street EX has become a classic for battery-powered guitar combos. It convinces with its switchable power of 50, 25 and 10 W and scores with COSM amp modelling, integrated effects and 3-band EQ. The cable-free design supports recording via the CUBE JAM app. In addition, the Combo i-CUBE is link-capable. The construction is bevelled, so that it can be placed like a monitor without a stand.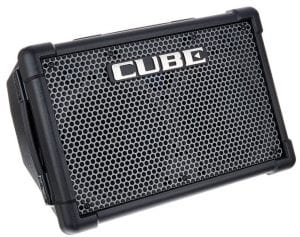 The CG-10X Street guitar combo by Harley Benton is a really compact and suitable combo for street musicians & Co. With its weight of a mere 3.4 kg, it is no heavier than a usually equipped ladies' handbag. In battery mode it lasts up to 10 hours and the batteries are simply recharged from the mains. Chorus, delay and a 3-band EQ are integrated. Especially since street music has its volume restrictions, the 5 watts are completely sufficient for the outdoor performance. The combo is also suitable as a practice amp or for warming up backstage.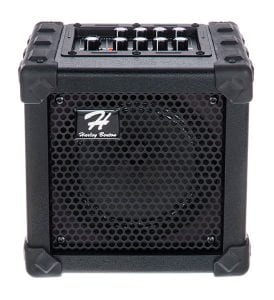 ---
Microphone & Instrument wireless systems
The wireless system U2 from XVive is a practical and inexpensive system for cable-free guitarists and other instrumentalists. The set includes transmitter and receiver; both are equipped with a jack and 4 channels in the 2.4 GHz range can be switched. The built-in lithium battery has an operating time of up to 5 hours and is easily charged via USB. Latency is barely perceptible to normal human hearing.
As a singing instrumentalist, there is simply no hand free for a handheld microphone. A pragmatic solution is the EW 152 G3 UHF wireless system from Sennheiser, for example, which transmits in the E-band waveguide and offers the option of selecting between 1,680 frequencies. The set includes the headset microphone, the bodypack and the receiver in 9.5″ format.
---
Connecting Components
Did you know that DMX commands can also be transmitted wirelessly? And you don't have to spend a fortune for this luxury, as the compact Eurolite QuickDMX Wireless Receiver proves. It comes in the handy format of an XLR connector with a swivelling antenna. Up to 512 QuickDMX receivers in the 2.4 GHz ISM band can be coupled per transmitter. And this with a visual contact range of up to 400 m.
The Ignition Wireless DMX WRX-1 Receiver is just as functional and practical. The receiver reduces cable clutter by wireless reception of up to 512 DMX channels via W-DMX. The necessary juice is supplied either via a power supply unit or battery pack. This is the counterpart to the manufacturer's established WSX-1.
The Cameo IDMX core is also interesting in this context. This is a battery-powered Wi-Fi and W-DMX converter for wireless light control with the Cameo iDMX controller app. It receives signals from all iOS and Android devices. The converter can also be used as a pure DMX transmitter with a visual range of up to 300 m.
---
Lights
The outdoor-suitable ADJ Element QAIP requires neither power nor DMX cables. Still relatively fresh on the market since December 2017, the battery-powered uplight is suitable for a wide variety of outdoor applications. It is equipped with a WiFly EXR transceiver with a range of up to 760 m. In flicker-free operation, the spotlight delivers solid colours and colour fading in the RGBWA spectrum.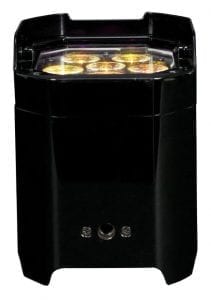 This one needs a power cable, but not a DMX cable: Ignition's high-performance Co9 LED Flood LED floodlight has a built-in W-DMX module for wireless control via DMX. A total of 36 LEDs with 15 W each provide a rich light output. The floodlight is equipped according to IP65 (waterproof enclosure) and therefore suitable for outdoor use. Admittedly a bit heavy with 13.3 kg for street music; but with this one you can even organise a spontaneous festival!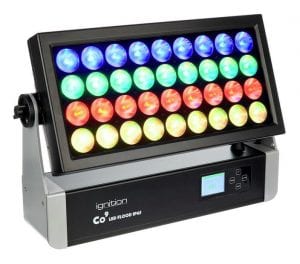 ---
With these products you are ready to go and hit the streets, pick up your gear in an instant and head to the next spot! No more wasting time wrapping cables, don't leave the ears of the public waiting for you again 🙂