7. Bass Drum Beater
Simple Beaters have round heads made from felt, They are actually no different than a mallet, which you install in a foot pedal. Modern requirements have lead to the development of different beater models. The materials used are felt, wood, plastic and rubber.

The acoustic laws are exactly the same as with drumsticks.
more weight produces a deeper tone.
harder material produces clearer definition
a large contact area delivers a dampened tone
a smaller contact area delivers more punch
A Good Beater has 2 or even 4 surfaces which are turnable by hand. You then have a lot of musical situations covered. Flat felt for a warm, fat bass drum sound or curved plastic for a clear, sharp attack.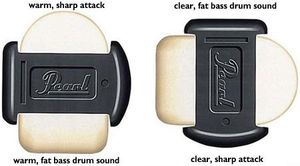 Most drummers want a fat, warm sound from their kick drum. Especially with very fast play however, for example with a double pedal, the sharper, better defined 'click' from a plastic head has an advantage. You simply hear the individual impact better. Sometimes you would like to have another sound; with the swiveling beaters this is no problem.
As an extra you can use a counter balance that is fixed on the shaft of the beater. By changing the mass of the beater you are actually changing the sound as well as the play behavior of the pedal. When using hard beaters,plastic,wood etc., it is recommended to use a patch on the drumhead. Not only do you prevent damage to the drumhead – you also add more punch to the sound.
Drumsticks overview