A
DigitalAll digital equipment, formats and systems represent audio in numerical code or form. Digital information is a precise way of expressing any of information that can be quantified in some way.

Digital
Signal Processor (DSP) is generally defined as being a microprocessor specifically designed for
DigitalAll digital equipment, formats and systems represent audio in numerical code or form. Digital information is a precise way of expressing any of information that can be quantified in some way.

digital
signal processing, usually for use in real-time computing. In simpler terms, and with a view to its relationship with computer-based
AudioGenerally used to mean "sound"; technically it describes periodic fluctuations of air pressure or electrical energy at frequencies and amplitudes within the human range of hearing; sound, or electrical energy that represents sound; acoustic, mechanical, or electrical frequencies corresponding to normally audible sound waves.

audio
recording, a
DSPDigital Signal Processing: A specialised communication system that alters, enhances or filters electronic signals by means of digital processing. A wide variety of applications and products use DSP including faxes, mobile phones digital audio products.

DSP
is a piece of hardware that runs software plug-ins (audio
EffectsGeneral term applied to audio processors for dynamics, time, ambience and equalisation whether in the form of 19" rack units, guitar floor pedals, or software plug-ins.

effects
and/or software instruments) within the computer-studio environment. The word 'accelerator' indicates that the
DSPDigital Signal Processing: A specialised communication system that alters, enhances or filters electronic signals by means of digital processing. A wide variety of applications and products use DSP including faxes, mobile phones digital audio products.

DSP
'accelerates' the performance of the computer itself, which of course is already used for processing
DigitalAll digital equipment, formats and systems represent audio in numerical code or form. Digital information is a precise way of expressing any of information that can be quantified in some way.

digital
signals. It is perhaps something of a misnomer, as it is really providing additional but separate processing power, rather than influencing the performance of the computer's
CPUCentral Processing Unit: the silicon chip at the centre of a computer system.

CPU
in any way. In physical terms a
DSPDigital Signal Processing: A specialised communication system that alters, enhances or filters electronic signals by means of digital processing. A wide variety of applications and products use DSP including faxes, mobile phones digital audio products.

DSP
accelerator is a silicon chip microprocessor, and is found either on an internal
PCIAn expansion card standard for desktop computers and servers. PCI cards attach to slots on the motherboard and usually provide connections at the rear of the computer.

PCI
or
PCI ExpressA faster version of the PCI expansion card standard, also designed to supersede the AGP graphics card standard and widely adopted by graphics card manufacturers. Not backwards compatible with standard PCI slots, and not to be confused with PCI-X.

PCIe
card which is slotted into the
MotherboardThe main circuit board of a computer or other complex electronic device.

motherboard
, or in a hardware shell that is connected to the computer via a protocol such as
FireWireA peer-to-peer computer serial bus available on both Mac and PCs, originally developed by Apple based on the IEEE 1394 standard. Up to 63 devices may be connected in series. Because of its high 400 or 800 megabit transfer rate it is often used for audio/video recording and streaming. Yamaha's mLAN protocol is an extension of the FireWire standard.

FireWire
or
USBUniversal Serial Bus: a system for connecting low-to-mid speed computer peripherals which has largely replaced a variety of competing serial connection standards. USB allows up to 127 devices (in theory) to be connected in series, and exists in two variants: USB1 (12Mbps) and USB (480Mbps). USB ports are backwards-compatible, but connecting a USB1 device will limit all devices on that port to the slower speed.

USB
.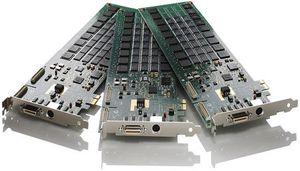 In both cases though, it is the computer which provides the 'front end', and also the integration of the
DSPDigital Signal Processing: A specialised communication system that alters, enhances or filters electronic signals by means of digital processing. A wide variety of applications and products use DSP including faxes, mobile phones digital audio products.

DSP
plug-ins within the recording software and
AudioGenerally used to mean "sound"; technically it describes periodic fluctuations of air pressure or electrical energy at frequencies and amplitudes within the human range of hearing; sound, or electrical energy that represents sound; acoustic, mechanical, or electrical frequencies corresponding to normally audible sound waves.

audio
signal chain.