Amp and Distortion Stompbox Pedal
With AI Machine Modeling technology

Suitable for guitar and bass

Presets can be edited with additional effects such as noise gate, compressor, tone EQ and reverb

150 Customisable presets

Ultra-low noise 24-bit/192 kHz converters

Frequency range: 5 - 24,000 Hz

Up to 123 dB dynamic range

24-bit/96-kHz USB interface

Expression pedal input to control any parameter

Selectable true or soft bypass

Input: 6.3 mm jack plug

Main Out L & R: 2x 6.3 mm jack

Exp pedal: 6.3 mm jack

Headphone output: 6.3 mm stereo jack

MIDI IN/OUT

USB

Dimensions: 176 x 142 x 55 mm

Weight: 0.90 kg

Incl. USB A-B connection cable (1.5 m), power supply, 4 self-adhesive rubber feet as well as TONEX MAX and AmpliTube 5 (download)
Available since
February 2023
Integrated Expression Pedal
No
Connections for Pedals or Switches
Yes
Modelling stompbox with audio interface
The IK Multimedia ToneX Pedal is a stompbox that offers authentic modelling of amps, cabinets, and overdrive/distortion pedals and comes with IK Multimedia's advanced AI Machine Modelling Technology and TONEX software that allow musicians to play digital tone models, model their own rigs using the included presets, and share them with other users on the ToneNET platform. This pedal features a USB audio interface with 24-bit/192kHz conversion for excellent studio sound and is perfectly suitable for both guitars and basses thanks to its extended frequency range that goes from 5Hz right up to 24kHz. For maximum usability, the ToneX Pedal's scope of delivery also includes the downloadable TONEX MAX and AmpliTube 5 software as well as a 1.5m USB type A to type B connection cable and a mains power adapter.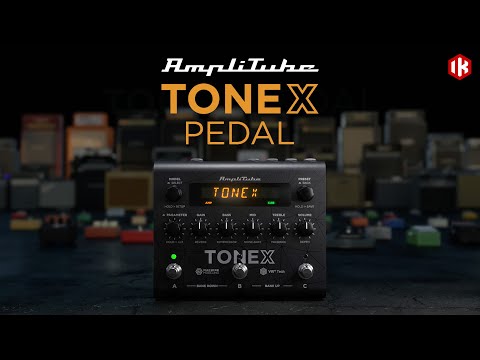 A versatile companion
The IK Multimedia ToneX Pedal features 150 presets that can be edited by adding a wide range of effects, including a noise gate to eliminate unwanted noise and feedback, a compressor for a fatter sound, an equaliser for optimum frequency control, and stereo reverb for more depth. This stompbox boasts an impressive dynamic range of up to 123dB that allows musicians to add focus and extra punch to their guitar or bass sound. The stereo reverb function can be used to add particular depth to the mono signal of the modelled amp and send the left/right signals to two mono jack outputs. Users can get even more creative by splitting the amp signal into two mono signals via the two outputs. With its MIDI inputs and outputs, the ToneX Pedal is also optimally equipped for integration into a MIDI rig that allows the stompbox parameters to be controlled remotely.
For ultimate flexibility
The IK Multimedia ToneX Pedal is an easy-to-use amp modelling tool that is sure to win over guitarists and bassists alike, including those who use a complex pedal board, thanks to its true bypass feature that allows it to be easily taken out of the signal path if it is directly connected to an amplifier or used as part of an effects chain. Experienced musicians are not the only ones who will find the ToneX Pedal to be a useful addition to their high-end gear - beginners will have the ideal tool in their hands for modelling tones with an exceptionally high level of quality in a DAW thanks to the included audio interface. Guitar and bass players of all levels of experience can also use this stompbox without needing to connect it to an amp or PC thanks to the integrated headphone amplifier.
About IK Multimedia
IK Multimedia was founded in 1996 in the small town of Modena in northern Italy. Its two founders, both musicians and engineers, joined forces with the aim of emulating electronic circuits using computer algorithms. Today, IK Multimedia is a multinational company with seven subsidiaries in Italy, Great Britain, Japan, Mexico, Brazil, Hong Kong, and the USA and exclusively manufactures products which are perfectly tailored to the needs of musicians, true to its motto "Musicians first".
Perfect for use on stage, at home, in the rehearsal room or recording studio
With its bright and easy-to-read display, sturdy metal housing, and metal footswitches, the IK Multimedia ToneX Pedal is the perfect choice for those who require a highly reliable stompbox that can be taken just about everywhere, from the rehearsal room to dimly lit stages. The integrated headphone output makes it easy for users to practise at home without disturbing their neighbours' peace and quiet, and the ToneX Pedal can also be connected to a mini PA system instead of a large-size amplifier in order to save space in the rehearsal room. In combination with an external expression pedal, it will also allow musicians to take creativity to the next level during their stage performances. With a weight of roughly 900 grams, this compact stompbox is of course a great solution for those who want to take it with them on a regular basis. What is more, the ToneX Pedal is even suitable for fake reamping of guitar and electric bass recordings in a DAW. The included self-adhesive rubber feet can be applied to prevent the pedal from slipping on any desk in the studio or at home.
Im Detail erklärt
AI Machine Modeling
AI Machine Modeling is an innovative emulation method developed by IK Multimedia that allows users to model the sound of amplifiers, cabinets, and distortion pedals with outstanding authenticity. This is done by recording the guitar sound as a capture file that is subsequently analysed and stored as a selectable emulation model, the so-called "Tone Model", by the AI Machine Modeling software's neuronal network. The resulting Tone Models reproduce the emulated tone not only statically but also in every dynamic nuance. In addition to the wide selection of presets provided by IK Multimedia, users can create their own models and share them with others on the ToneNET website. Even the complex sound of entire rigs can be analysed and emulated by the AI Machine Modeling software. In order to access the Tone Models, users require an audio interface such as the IK Multimedia AXE I/O or the ToneX Pedal alongside the ToneX software. Furthermore, an additional microphone or re-amping box is necessary in order to be able to create amp and cab models.
This is what customers who viewed this product bought