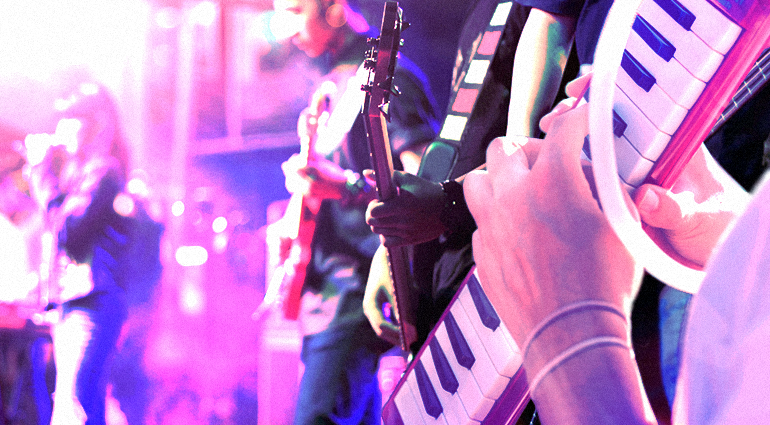 Unusual Instruments in Pop/Rock Music
Unusual Instruments in Pop/Rock Music
It doesn't always have to be bass-guitar-drums!? The world of musical instruments is so varied that we sometimes forget the appeal of the extraordinary, sometimes exotic, or at least unknown. Impressive contrasts, effects and moods can be achieved with unusual instruments that are not part of the "classic" stream of the genre.
---
1. Korn – "Shoots & Ladders" – Bagpipes
Whether the bagpipe can still be called an unusual instrument is probably more a matter of genre. After all, there are a number of bands in which bagpipes are a natural part of the sound. And not just in medieval markets. Korn is one of the heaviest bands in which bagpipes play a prominent role.
2. Gorillaz – "Clint Eastwood" – Melodica
The melodica is used over and over again in a wide variety of genres to add an extra timbre to songs. This is also the case of the group Gorillaz with the 2D comic characters, Murdoc Niccals, Noodle and Russel Hobbs, behind which is none other than Damon Albarn from Blur. They already used the melodica on their first album in 2001, for example on the title "Clint Eastwood", which was even used for an advertisement for a well-known car manufacturer.
3. Depeche Mode – "Everything Counts" – Xylophone & Melodica
In "Everything Counts" Depeche Mode – as usual – used different samples, but also conventional instruments like the melodica and xylophone, which provide a stark contrast in the song which deals with greed and corruption in Great Britain. Britain at the time.
4. Sufjan Stevens – "Mystery of Love" – Guitalin
Sufjan Stevens' Mystery of Love was nominated for Best Song at the 2018 Oscars. He wrote and recorded the soundtrack for Guadagnino's film 'Call Me By Your Name'. He relies on an extraordinary instrumentation where he plays a hybrid instrument, a mixture of guitar and mandolin, made especially for him, called a "guitalin".
5. Tanita Tikaram – "Twist in My Sobriety" – Oboe
The oboe has this incredibly soft, warm and at the same time clear and direct sound. This is also the reason why the oboe generally sets the tone when the orchestra joins it. But it has also long left its mark in pop music, as in "Twist In My Sobriety" by Tanita Tikaram, where Malcolm Messiter plays the oboe, delivering particularly catchy solo passages.
6. Midnight Oil – "Beds are Burning" – Didgeridoo
Long gone are the days when the didgeridoo was primarily associated with Australian natives. Musicians continue to experiment with the wind instrument, and so do Midnight Oil, one of Australia's most successful rock bands. One of the band's biggest hits was "Beds Are Burning". On their tours they used the didgeridoo on numerous occasions, making singer Peter Grant and Co. ambassadors of Australian music and supporters of Aboriginal people.
7. Coldplay – "Viva La Vida" – Orchestra Bells
Coldplay's "Viva La Vida" became a global chart hit in just minutes and topped streaming sites for weeks. The content of the Bible was treated in the lyrics, on an instrumentalisation of orchestra bells, glockenspiels and choral songs. Production innovator Brian Eno once again lent a hand, and 'Viva La Vida' won every award imaginable.
8. Jimi Hendrix – "Crosstown Traffic" – Kazoo
To some, the kazoo, with its typical squeaky sound, belongs in the toy department, to others in the kit street musicians, but it also belongs in the rock scene! Voodoo guitar wizard Jimi Hendrix, who always found a way to bring sounds to life in his head, did it with a kazoo on "Crosstown Traffic" by doubling his guitar parts.
9. Mozart – Adagio in C major for glass harmonica
Let's not forget the classics, after all there are many unusual instruments in classical compositions that claim to interpret the sounds of nature, the moods of forests and meadows, or the changing seasons. None other than Wolfgang Amadeus Mozart even wrote an Adagio and a Rondo for the glass harmonica. He composed the works in 1791 for the blind glass harmonica virtuoso Marianna Kirchgeßner. It was his last work of chamber music.
10. Beatles – "Norwegian Wood" – Sitar
One of the first popular songs to use the sitar was "Norwegian Wood" by the Beatles. It was the time when the Fab Four experimented with unusual instruments and often went in search of the meaning of life. George Harrison had purchased a sitar shortly before the recordings. A meeting with the Indian musician Ravi Shankar had changed his life. The sitar virtuoso taught Harrison and is also known as the 'Silent Beatle'.
Other examples?
Let us know in the comments if you have any other examples of popular songs that use unusual instruments!