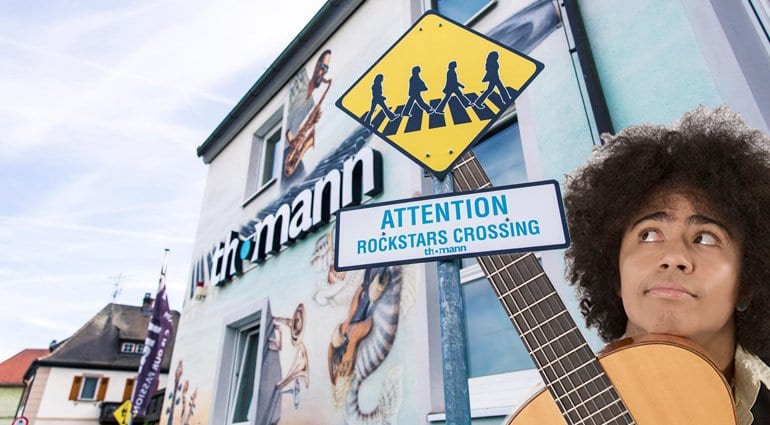 Frederik's Visit To Thomann Town
Frederik's Visit To Thomann Town
Have you ever had such a good experience that you were moved to write about it? Well, one of our customers, Frederik, wrote us a lovely story about realizing his dream of visiting "Thomann Town", as he calls it. Frederick is a professional musician from Copenhagen with a vivid imagination and poetic outlook. Read what he has to say about his visit to T-Town. It may inspire you to take an unexpected turn off the Autobahn, if you happen to be in Germany…  
---
As a professional musician I have done my purchases of music equipment online with the company Thomann. At all times my relationship with the company has been "just a website". I would spend hours, browsing through cool stuff and dreaming about getting all that cool stuff. Creating folders in my browser as a wish-list and accumulating things for my next order. Simply copy pasting it and sending it to friends and families and sharing it around Christmas and my birthdays, with a note saying: pick one item and I would be very pleased. The name Thomann has become a catch all phrase for any equipment-related issue on the job. As a travelling street performer there is a lot of hang time with friends and colleagues, and seeing someone struggling with a faulty mic cable, it would simply be enough to point to it and say: "Go see Thomann".
For years I have heard about the mythical place, where the website would become alive. Where the guitars would hang in rows, as far as the eyes could see and where there would be rivers of honey and where the angels would sing: "you can have it all".
Finally, visiting a street performer festival in Wurzburg, I realized that I was only an hour drive from this mythical place. I decided to postpone my long drive back to Copenhagen and visit Thomann town. Any sane person would say: why not order the stuff online, and be home in time for dinner instead? That´s not the point. It's not about a shopping trip where the only goal is to get more stuff. For me it was the experience of seeing the workshop of Santa Claus, and hanging out with the reindeer and gnomes and such.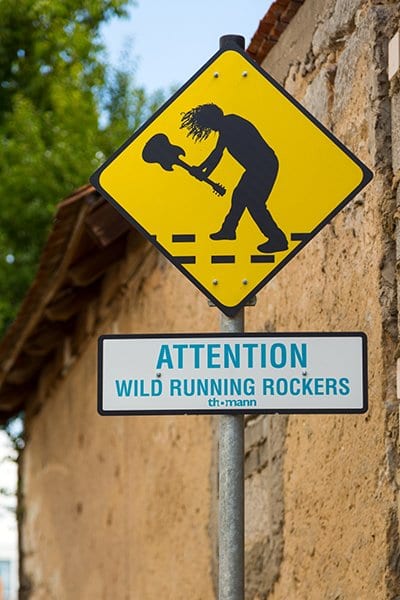 Thomann is located somewhere in the south of Germany in a village called Treppendorf, fairly secluded from the rest of civilization, which just added to the mythical status of the place. I mean, it's not like Santa Claus has set up shop on Broadway, next to the apple shop.  Making the last turn, I saw a huge building project. The erection of a new storage facility, and I noticed how little empty space there was. The metal construction towered towards heaven, with rows of metal beams like a compressed Eiffel Tower. Packed so tightly that it would be hard to manoeuvre a forklift around in that tight space.  I was later to find out, that it would be operated by robots. Cool…. instead of initiating the apocalypse, the Terminator T-1000's had decided to get a gig in Thomann Town, and do the calypso.
I was told by a friend, that the best way to visit Thomann was to camp on their parking lot, overlooking a small lake, and then barge through the doors by first sunlight. You do not want to show up an hour before closing time, which would be the equivalent to bringing your kids to Disney World an hour before closing time. I could imagine a scene of grown men with beards and heavy metal T-shirts throwing tantrums while yelling: "Why me?" and "I am too young to die", while being dragged out by the security guard, which I did not see. Neither security guards nor crying rockabillies.
By the lake there was a warning sign, informing of the danger of somehow having your car end up in the lake. The icon was an old Volkswagen van with flowers painted on the side. As I steered clear of the lake, I thought about Newtons first law of motion: Hippies in motion will stay in motion, until they are stopped by a lake.
There I was, Thomann Town.
The building was unassuming and not Ikea-like. It was as if someone could live there. Lots of windows and not like a huge cube.
As I exited my car, a string snapped on my guitar. It was as if my guitar felt I was about to leave for someone younger and more beautiful. I gently put my hand it's shoulder, and uttered the words: "You will always be my first".
Walking up the stairs I felt the excitement, and of course heard angels singing. No surprise there! The glass doors opened as if moved by an invisible hand and there she was, the receptionist Joana, who was to be my new friend and companion for the next couple of hours. She greeted me with a smile and a gentle "Hello". I was speechless for what seemed like 30 seconds, when I was finally able snap into human protocol and say: "Hello".
I simply stated that I had come to see Thomann, and that I was in for the grand tour.
She gave me the lay of the land and a meal voucher for their T-Kitchen, which made me feel very special. The word T-Kitchen was relayed to me verbally, so my mind wandered off and started creating images of a cute little "tea kitchen" with a few sandwiches in a basket. I was later to find out that T-Kitchen probably meant something in the order of Thomann Kitchen, and was a colossal building in itself, located somewhere in Thomann Town.
Thomann Town is not the official name of the establishment to the best of my knowledge. But a term I am using since it's a collection of several buildings constituting a small village.
I made it a goal to search out every corner of this magnificent place. There I was, next to a kid shredding the tuba, a redhead hammering the harpsichord, perceiving the percussion in the penthouse, and then finally – the guitar room.
I decided that I needed a sidekick, a friend. There he was, Jannick, the sorcerer's apprentice. Learning the craft and already mastering the most important skill: friendship.
Though Thomann would belong to the megafauna in a paleolithic sense, it's doing the slow tease. Kissing on the first date is fine, but you gotta work for it. It's not like Ikea, laying it all on the line on the first date, all products are not on display at all times.
I was going for stomp pedals. They are easier to hide from my wife, and since they are made of wood, I could always tell her that I had made them myself.
The one I wanted was not on display, so Jannick summoned his own private Terminator to bring it over. That day it would take just under an hour. Perfect, I thought to myself. That allows me to touch buttons and ask idiotic questions for another hour or so.
You can get lost at Thomann, and you want to lose yourself in there. Around every corner there is a friendly Thomanner greeting you with a kind hello, or a what´s up. It´s like a family of music lovers.
I finalise my purchase and in doing so i flood Jannick with my dodgy busking cash. Sure, no problem, he says while staring at my wheelbarrow of coins, condoms and candy.
After paying, you walk through Thomann Town. Passing horses and stacks of firewood, more humorous warning signs and there it is, the check out building opposite the T-Kitchen. There I get some good Bavarian Strudel, while waiting for the T-1000 to fetch my goods.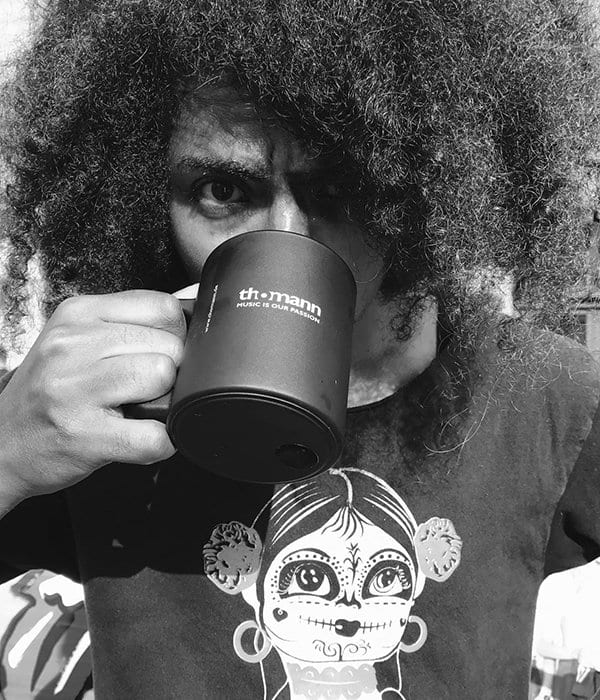 That was my visit to Thomann Town. It's up there with Graceland and the Moon, of places to go before you die. Preferably before you die, or else things might get messy.
Thank you Joana for a nice meal, and being very patient and always smiling.
Thank you Jannick for being my sidekick in the trenches, guiding me through the sense overflow.
Thank you Thomann for opening your non virtual doors for me, and allowing me to linger for hours.
---
Did you also have a nice experience at the Thomann headquarters in Treppendorf?
#MyThomannTrip
Hope to see you soon!