4. Snare Strainers
Snare drums are usually far more expensive than tom-toms even when they're of similar size and made from the same type of shell. This is often due to the snare strainer, the mechanism that engages the wires and fine-tunes their tension against the bottom head. There are many different types of snare strainer available, though simpler designs prevail at present.
In the not-so-distant past, parallel-action strainers were considered state-of-the-art. These allowed the snares to be lifted or dropped at the same time on each side via a linkage running through the centre of the shell. This design isn't as nearly as popular as it once was for a number of reasons: it requires extra-long snare wires that extend past the edge of the head and as a result also requires a larger drum case. Parallel-action snares tend to be bulky, complicated and prone to damage while adding a fair amount of hardware cost; the supposed benefits of the design are generally felt to be inaudible.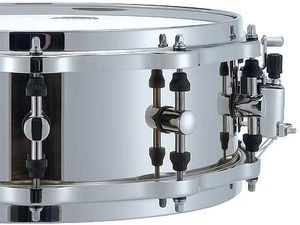 Today most strainers operate from just one side. This is far simpler and doesn't require an oversized drum case to accommodate the extended snare wires. They are also far less expensive to produce, though some boutique strainers can be surprisingly. Most have a lever than either drops to the side of the shell, or 90 degrees away from it, releasing the wires. A fine-tuning knob at the top allows for subtle adjustments to the wire tension. On the opposite side of the drum is the snare butt, which secures the snare wires to the opposite side of the drum. When evaluating a snare drum, note whether the strainer operates smoothly and quietly. If it doesn't, consider another model.
You've probably noticed that the bottom hoop of a snare drum has an opening on each side, called the snare "gate", which allows the wires to pass through. However, you may have never noticed the bottom edge of the snare drum shell is slightly shallower at that point. This is called the "snare bed" and allows the wires to be pulled tightly against the bottom head. Without a snare bed the wires would rattle no matter how much they were tightened.
Snare Drums panoramica