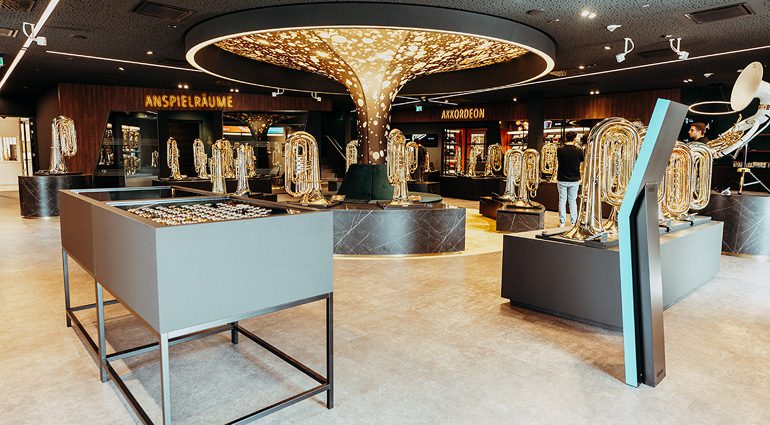 Thomann Shop – New Drum and Brass Departments
Thomann Shop – New Drum and Brass Departments
---
With the latest expansion, our store has grown by no less than 800 square meters. The new areas are connected to the original building and filled to the brim with merchandise and the latest music technology. Our goal is to create the most exciting music store in the world here in the humble Treppendorf, merging the online shop and physical store.
Completely revamped drum and brass sections
If you're a drummer or brass player, you have something to look forward to because the drum and brass sections have undergone exciting renovations. Are you searching for a new cymbal? Our new cymbal section is twice as large as before (and it was already substantial)! With over 1,300 different playable cymbals in our new stylish demo cabins, you'll feel like you're in Cymbal Heaven. A dedicated snare area will make drummers' hearts beat faster. Just drop by for a test!
And while you're looking for a new instrument in currently Europe's largest low brass or tuba exhibition, you might notice our new innovative tuba and euphonium holder. There will be further adjustments to the inventory in the expansions, so stay tuned.
Data & Facts: Expansion of the Drum & Brass Departments
Here are some numbers compiled for those interested:
Total expansion of store space: 800 m²
New brass department: approx. 400 m²
New drums department: 400 m²
Project timeline: Planning began in mid-2020, groundbreaking in mid-2021, and completion in June 2023
Instrument categories & number of instruments on display in the brass department: A total of almost 2,000 instruments, divided into tubas, euphoniums, accordions, a test station specifically for MIDI-controlled accordions, as well as trombones, French horns, trumpets, woodwind instruments, and brass converters along with their corresponding mouthpieces.
The drums department, equipped with acoustic sets, premium drum kits, club kits, a dedicated snare showroom, a huge cymbal section, a separate e-drums area, and countless sticks and percussion instruments, features approximately 2,000 immediately playable exhibited instruments.
Number of people involved in the project: approx. 60 – 80 individuals
New features / special features of the departments: Guests now have significantly more demo spaces available, allowing multiple customers to test instruments simultaneously. These rooms are acoustically optimized, air-conditioned, and create a pleasantly inviting testing atmosphere. Sales terminals assist customers in selecting products from all available items. The journey into our barrier-free musical world begins in the Brass, Drums, Classic Drums, and Strings departments.
Immerse yourself in a world full of fascinating details and unique experiences in our new departments.
With exciting highlights like exclusive wall prints applied through innovative printing processes, both departments are true eye-catchers. The new Drum Department is accessed through an LED tunnel where exclusive content produced by our in-house video team is presented both acoustically and visually. Digital information terminals enhance our newly introduced electronic price tags.
Thomann Shop: Unprecedented Gear Testing Opportunities
They say that Thomann's new store is more than just a shop – it's an amusement park for musicians. Come and see our new departments with your own eyes – but be prepared to spend a lot of time because you won't want to leave quickly. 🙂 Because we all know that there's nothing better than testing the latest products yourself. And if you have a question, our experienced staff is always there to help. We look forward to your visit and wish you happy testing!
Musikhaus Thomann
Hans-Thomann-Straße 1
96138 Burgebrach-Treppendorf
Your Feedback: New Drum and Brass Department at Thomann
If you've already visited – how did you like it? We look forward to hearing your feedback!