Flying through Thomann Shipping Centre
Flying through Thomann Shipping Centre
Please fasten your seat belts! Today we take you on a flight through our new and recently-opened shipping centre and warehouse. We also make a detour to our logistics centre, which has been in existence for many years. Let yourself be surprised and enjoy your flight.
---
Your satisfaction is our top priority
Throughout our more than 60-year family history, you, our customers, with your wishes and needs, have always been the focus. Offering you a service with the most uncomplicated and fastest processing possible and the highest stock availability is the highest priority for us. It is and remains our declared goal that you are completely satisfied with our service. We would like to invite you on a sightseeing flight and show you how consistently we are committed to your concerns…
On the ball and constantly improving
Functioning warehousing and logistics play an immensely important role. By constantly expanding and renewing our logistics and shipping, we want to ensure that you receive your orders quickly and reliably. After all, equipment is often needed at the last second before a gig. 😉 Our colleagues in shipping do everything they can to ensure that musicians and event technicians get their orders in their hands as quickly as possible. Well then, it's boarding time – enjoy our drone flight through the Thomann shipping complex:
High ability to deliver and the widest possible selection of products
So that you can be optimally supplied by us depends on our ability to deliver. No matter how large the online shop, if the listed instruments and technical components are not available on command, that is of little help to you. We are fully aware of that. And so we regularly offer you the widest possible selection with our range of over 100,000 products from trendy to necessary as well as special items. Every music enthusiast will find what they are looking for here, from beginners to amateur musicians to professionals.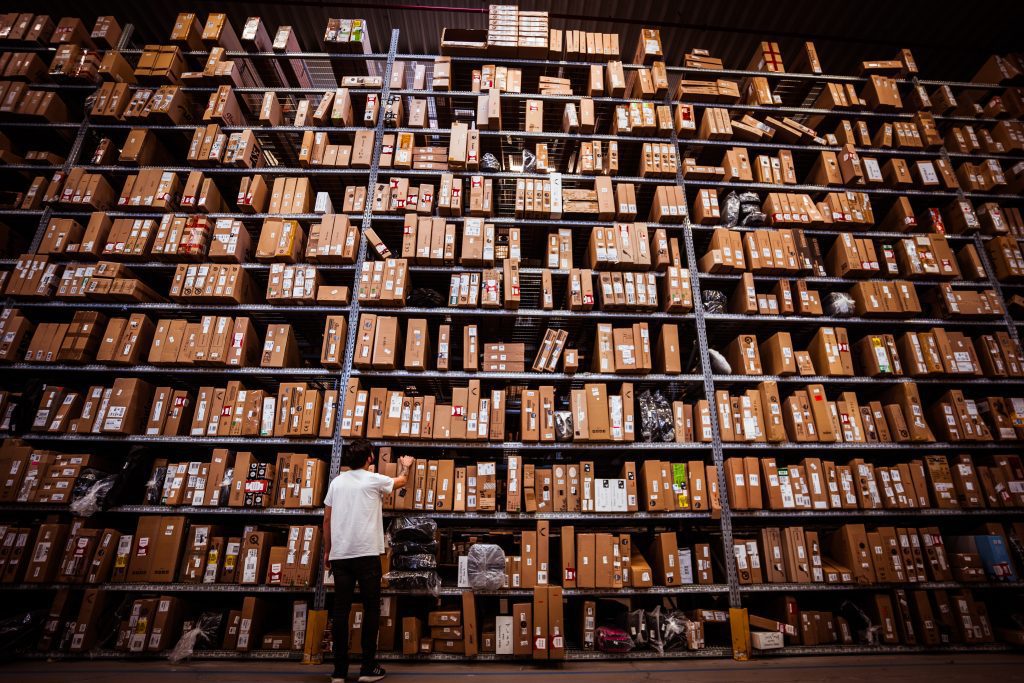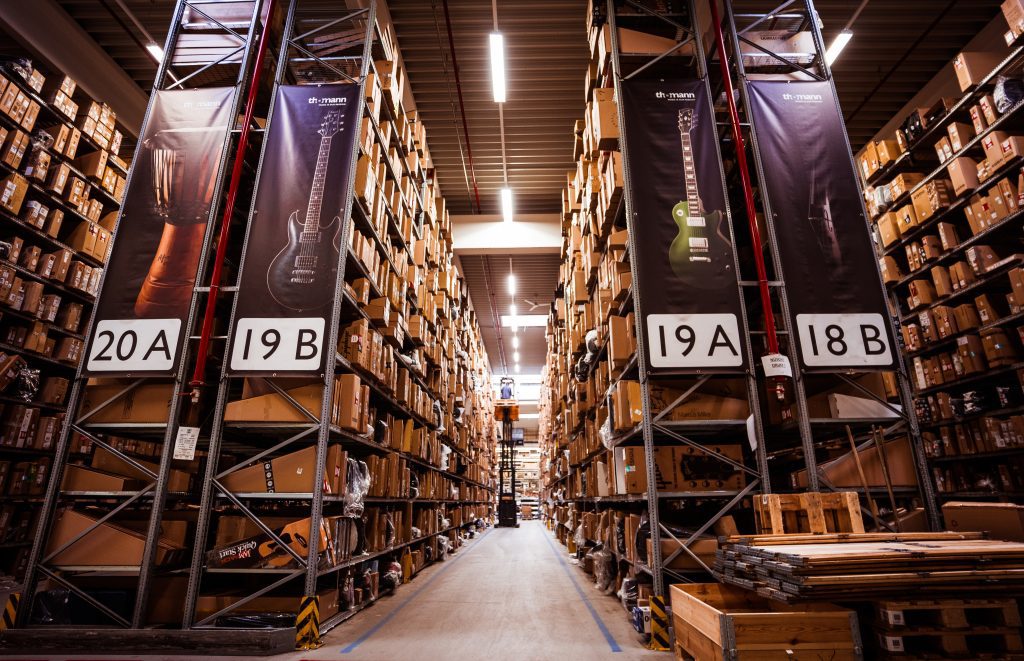 Need advice? Just call!
Our experts in the respective departments keep their eyes and ears open at all times so that they can answer your questions regarding the latest trends and new developments. Don't forget that our colleagues in the shop departments and on the hotline will advise you competently and with great attention to detail. The focus is exclusively on the perfect solution for you. Just get in touch if you need to.
Prepared for future challenges
It goes without saying that the immense demand must also be able to be met logistically. Especially since our existing shipping warehouse was reaching its limits in view of the millions of customers, we had a new logistics center built in 2017, which not only forms the heart of our shipping and warehouse processing, but was also networked with the already-existing system without any problems during ongoing operations. The next high-bay warehouse is currently under construction, which will also have space for 35,000 Euro-pallets.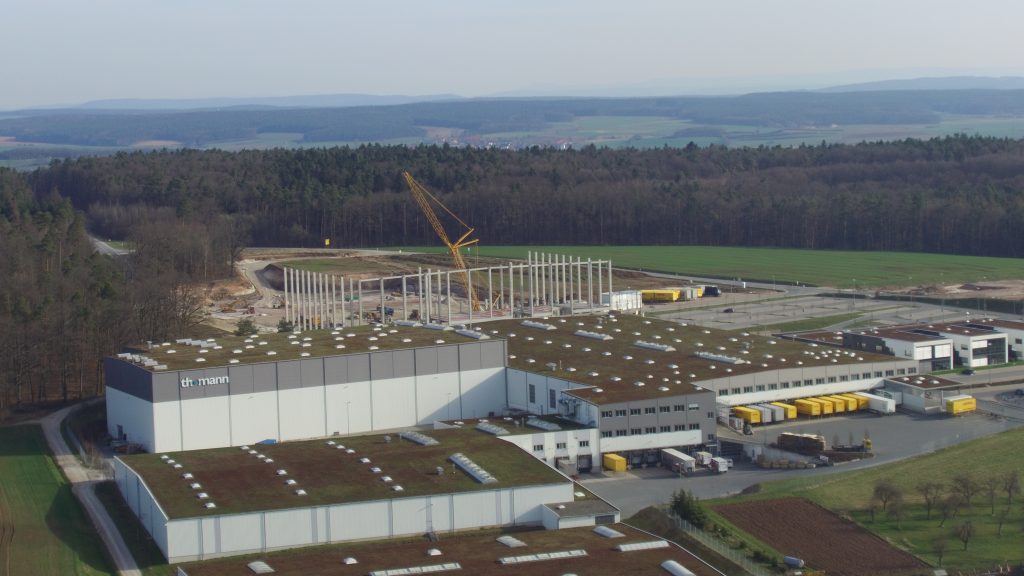 Time saved for your satisfaction
Currently, up to 35,000 parcels are sent out into the world from Treppendorf every day. In order to be able to master these challenges flawlessly in your interest, we made a large investment for the new building, including robotics and software. The result: The average throughput time was reduced from the already considerable 28 minutes to just 20 minutes from order entry to order picking. More than 560 employees currently work in our logistics and shipping department. We are still looking for backup for our colleagues. Would you like to break shipping records and work for Europe's largest music store? Here you can find all the job positions we are hiring for. This link takes you to the job offer specifically for packers in our Logistics centre (m/f/d).
Trustworthy facts of innovative logistics
Music is pure emotion and a language that connects the world. And we want to inspire and excite you, also, with the idea that musicians from beginners to professionals are one big family. Allow us to give you a few bare facts so that you can get an idea of ​​the magnitude of our logistics in action for our community with more than 12 million customers worldwide:
Thomann's shipping in figures
Approximately 7 million parcels are sent from Treppendorf every year
There are regularly around 80,000 pallets in the warehouse
130,000 different products are stored in the warehouse
The conveyor belt has a total length of 10 km
80 – 100 trucks are dispatched daily
We ship to more than 140 countries
---
Music is our passion: You can try everything on site
The hands-on, human component must not be left behind, even in the age of online trading. After all, you as a musician enter into a very personal relationship with your instruments. Even if the vast majority of products are shipped: "You have to be able to touch everything," says our boss Hans Thomann, and we couldn't agree more! Everything you see and hear in our online shop can be tested on site in Treppendorf. The exhibition is huge and what is not on display can be taken from the warehouse for you on request.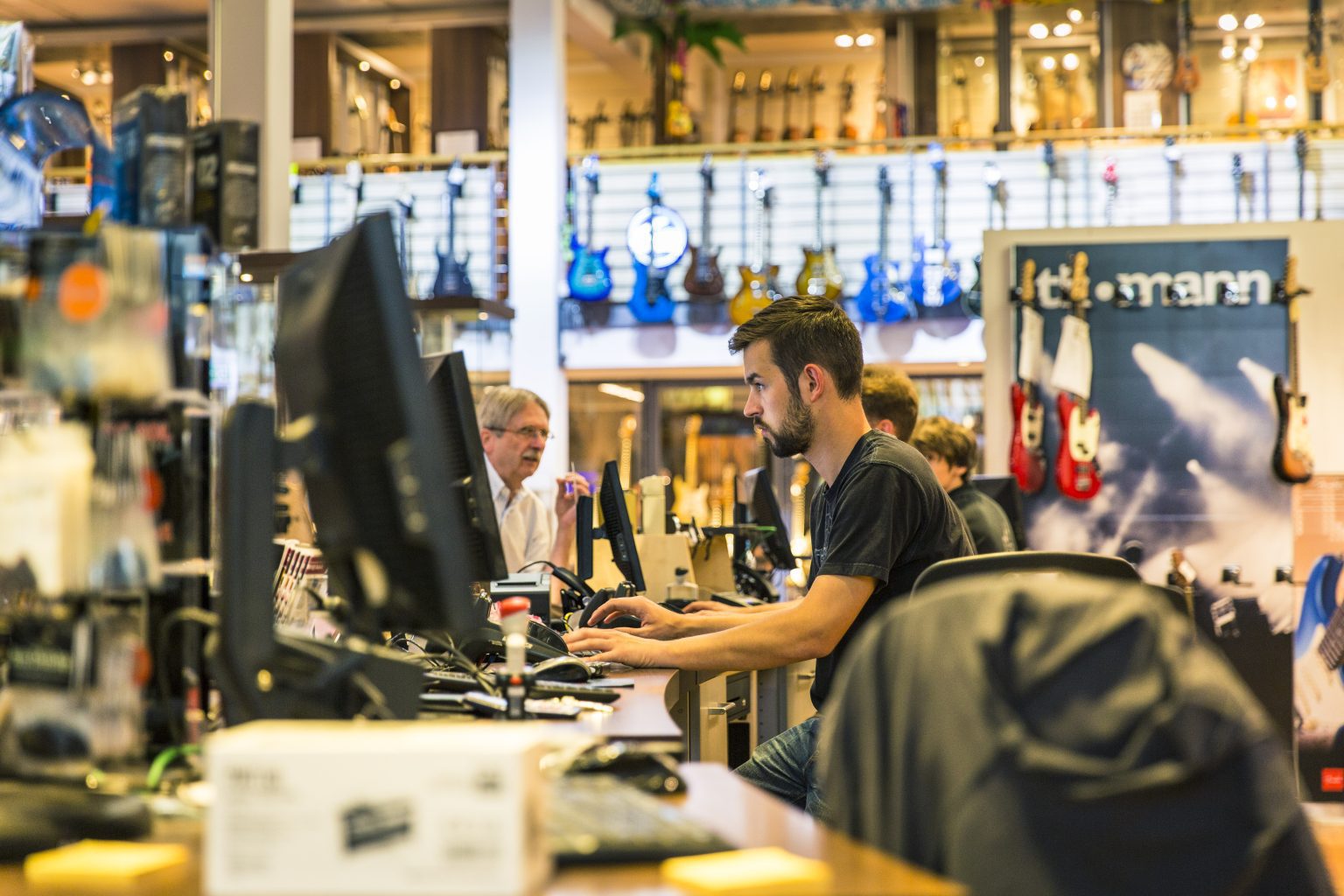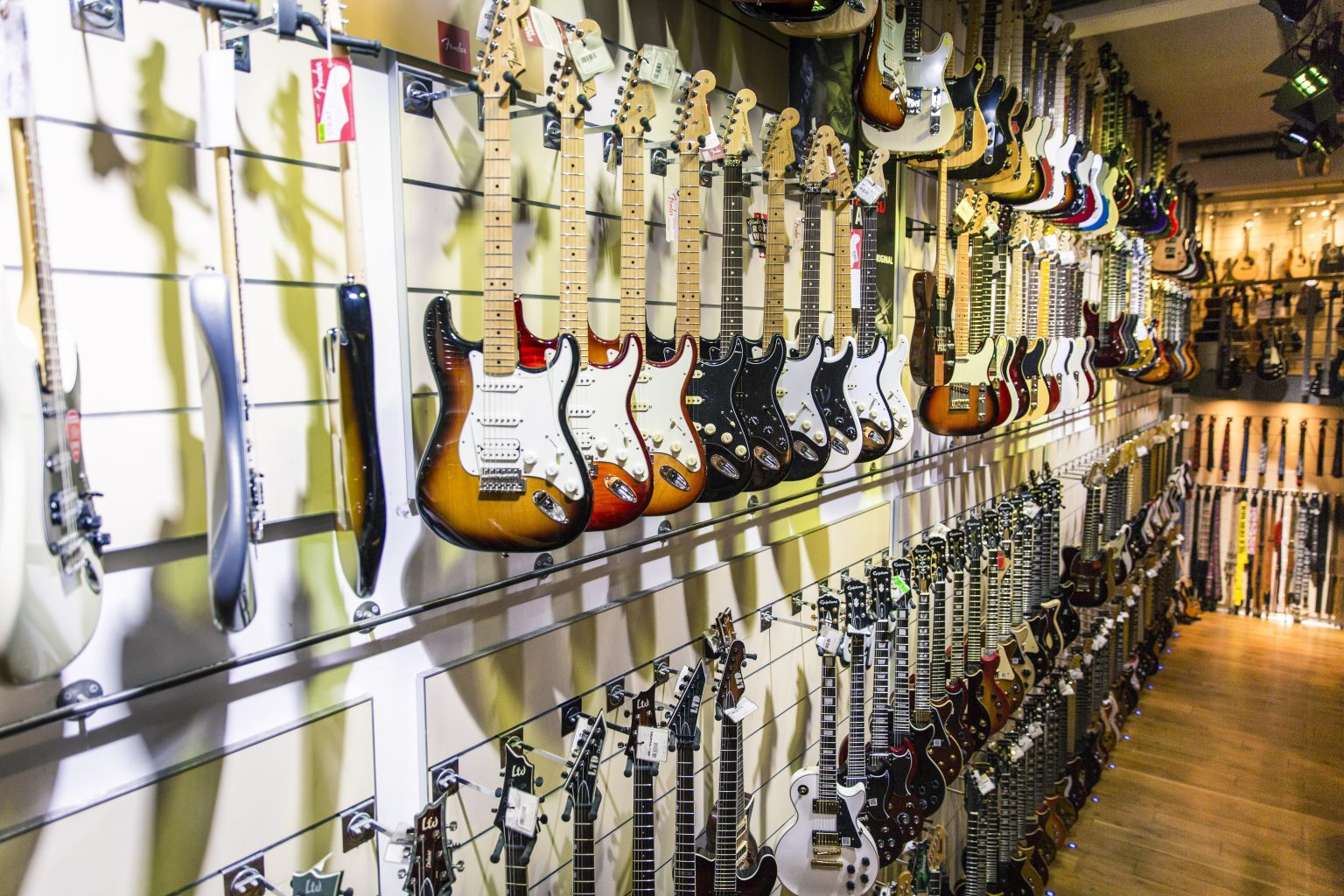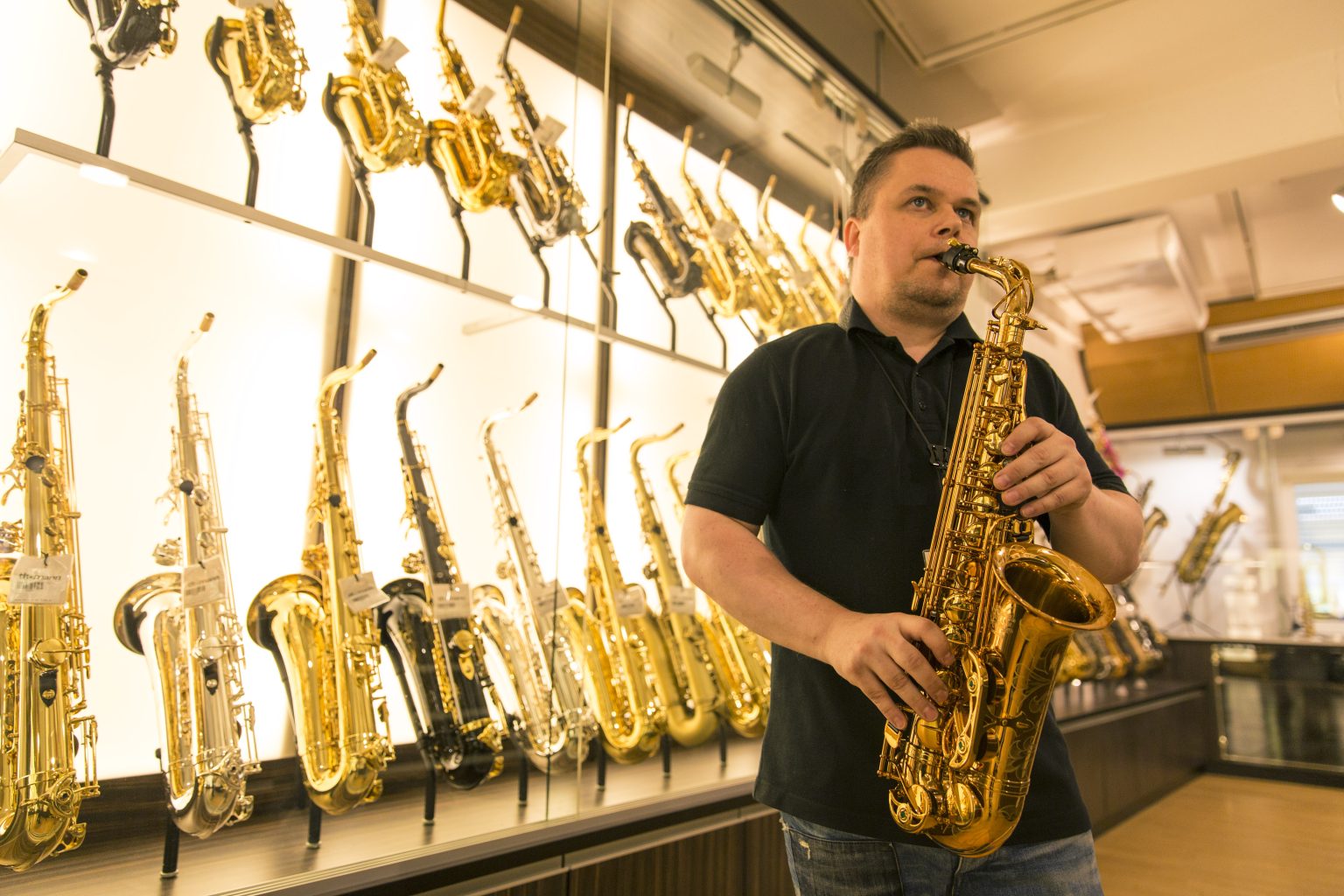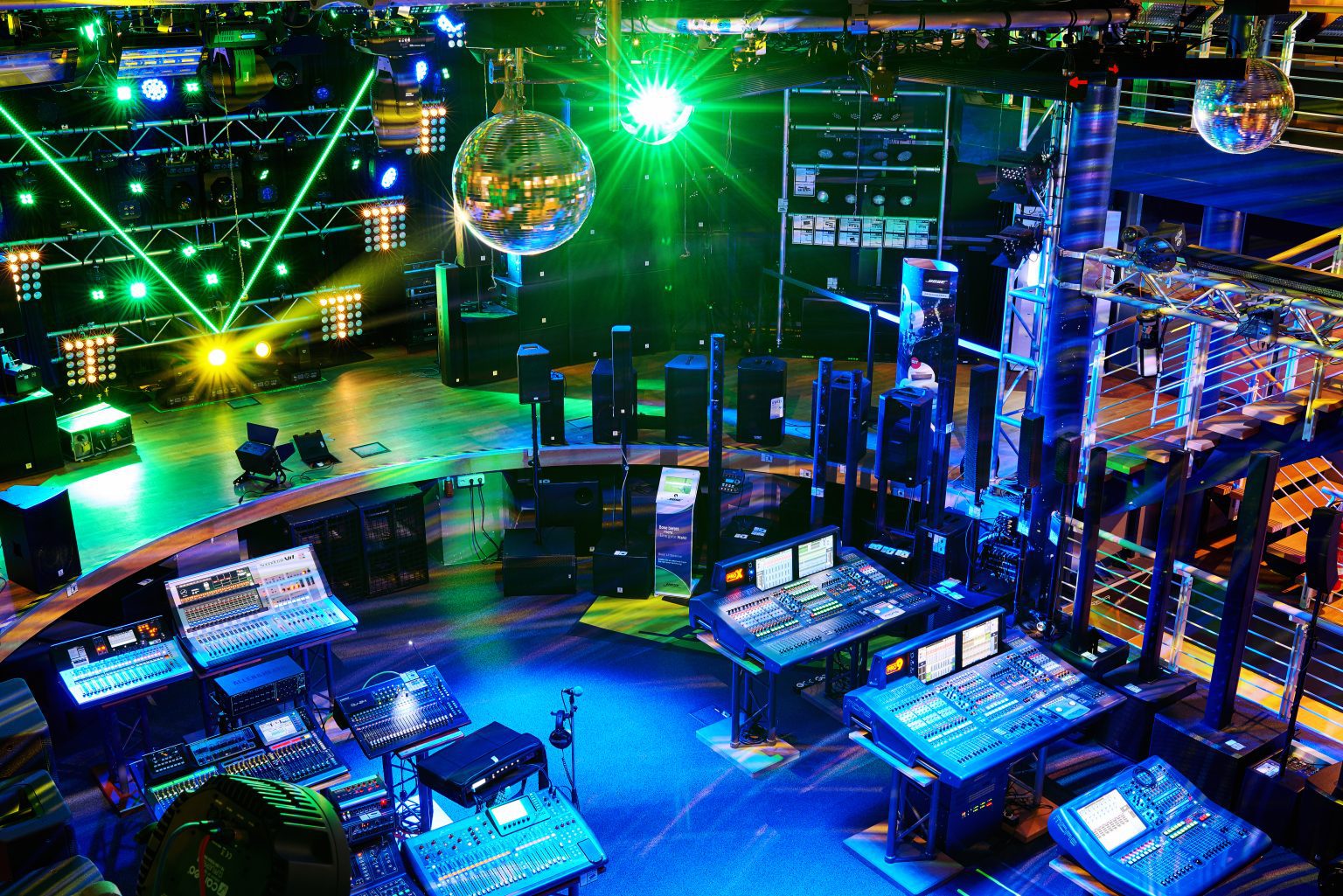 You are always welcome!
We look forward to welcoming you online or in person on site in Treppendorf. Here are directions if you wish to come visit us! We hope that our sightseeing flight showed you our constant desire to improve our service for you. See you soon!
Jobs
We are constantly expanding our team. If you are interested in working for us please check out our job site!