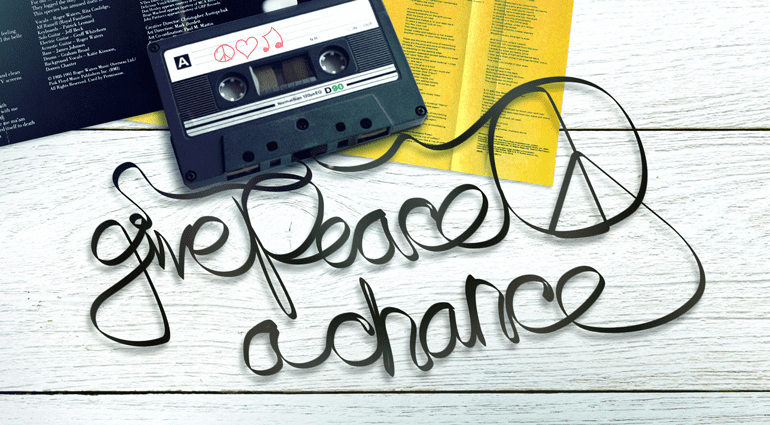 Ter ere van de Wereld Vrede Dag, zijn hier door 10 vrede geïnspireerde klassiekers die een betere wereld aanmoedigen! Kun jij de songteksten van deze krachtige nummers invullen?
"One Love" - Bob Marley
As it was in the beginning (One Love!)
So shall it be in the end (One
_____
!)
"We Are The World" - USA for Africa
We are the world, we are the children
We are the ones who make a brighter day
so let's start
_____
"Sunday Bloody Sunday" - U2
And it's true we are immune
When
_____
 is fiction and TV reality.
"Imagine" - John Lennon
Imagine no
_____
I wonder if you can
No need for
_____
or hunger
A brotherhood of man
"Peace Train" - Cat Stevens
Now, I've been crying lately
Thinking about the world as it is
Why must we go on
_____
?
Why can't we live in
_____
?
"Somewhere Over The Rainbow/What A Wonderful World" - Israel Kamakawiwo'Ole
Where trouble melts like
_____
drops
High above the
_____
top
"What's going on" - Marvin Gaye
Oh, you know we've got to find a way
To bring some
_____
here today
"War Pigs" – Black Sabbath
_____
gathered in their masses
Just like witches at black masses
_____
minds that plot destruction
Sorcerers of death's construction
"Blowing In The Wind" - Bob Dylan
Yes, and how many years can some people
_____
Before they're allowed to be free?
Yes, and how many times can a man turn his head
And pretend that he just doesn't
_____
?
"What a Wonderful World" - Louis Armstrong
The colors of a rainbow
So
_____
in the sky
Are also on the
_____
Of people going by
Share the quiz to show your results !
Subscribe to see your results
Quiz – Wereld Vrede Dag
I got %%score%% of %%total%% right
%%description%%