9. Where in the Signal Chain?
Despite the advent of budget-priced multi-fx boards, individual pedals remain popular with guitarists as a quick and easy way to get sounds together - what they lack in fine control and programmability, they more than make up for in the simplicity department. For the musician who requires only a few effects such as simple wah, delay and chorus perhaps, individual pedals are a great solution. For those who need to combine multiple effects and change effects settings regularly, programmable multi-fx can represent a better choice. In addition, if you start adding up the price of individual pedals you'll find that at some critical point, self-contained multi-fx becomes more cost effective, and there are also no batteries or messy power supply cables to worry about.
However, one big advantage of using individual stomps is that you can easily change the order of the individual pedals by simply re-patching them. The specific order of the effects can have a profound impact on the resultant sound - for example, we are all familiar with the sound of a flanger feeding into a reverb. But try reversing that order and listening to the result – a very spooky and ethereal sound.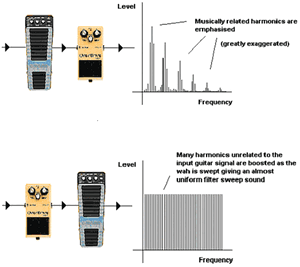 With this in mind, what about the placement of the wah-wah pedal in the signal chain? Should it go before the overdrive or after it? Of course there are no rules, but each arrangement sounds quite different. For classic Hendrix, Vai and Satriani tones, the wah must be placed before the overdrive. When the pedal is moved, the filter inside the wah will emphasise in turn the harmonics present in the clean guitar tone. The resultant sound from the wah output will be naturally 'thinner' than the input, since the job of the filter is effectively to boost a narrow range of frequencies. If we now distort this signal with the overdrive effect (whether from a pedal or from the pre-amp section of your guitar amplifier), harmonic distortion will be added, filling out the sound and leaving you with a nice 'fat' wah and the natural guitar harmonics still intact. If on the other hand, we place the overdrive before the wah, then the wah will sweep through all the harmonics added by the distortion process – some of which will be related to the original guitar signal, and some of which will not. The result is much more intense, but very narrow by comparison, and certainly not as 'musical'.
Wah Pedals översikt