11. Restoration
As part of the mastering process it is often necessary to restore old recordings to overcome not only the poor original sound, but also any degradation that has occurred over the years. This can consist of anything from pops, clicks and crackles in the case of vinyl and even older cylinder recordings, to hiss, wow and flutter and distortion on tape. Although careful equalisation might mask or remove some of the artefacts, computer based noise reduction systems such as CEDAR and software plug-ins like the Waves Resoration Bundle have become the industry standard tools for the job. The software is usually broken up into several plug-ins or processes, because it is important that the restoration work is carried out in the correct order, as one process can affect the next. The four most common noise artefacts and the usual order that they are processed in are:
Clicks – random transient noises

Crackling – record surface noise and smaller pops and clicks

Hum or buzz – mains hum and ground loops

Noise or hiss – broadband noise such as air conditioning, computer fans and tape hiss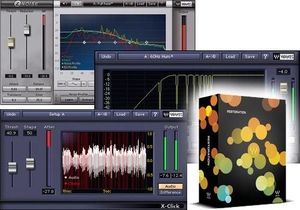 Restoration software often features controls similar to that of a dynamics processor - threshold, attack and release envelopes to adjust how much of the noise is processed and how quickly. It may also have the ability to detect what the noise is by 'learning' it first from an otherwise silent section of the recording, and then creating a profile which can be reused on any other material from the same source. Additionally, batch file processing is often offered which allows many files to be automatically processed to the same specifications.
Mastering översikt