6. Custom-Moulded Systems
Whatever the quality of audio components used, the sound quality actually reaching the users ears from an in-ear system can vary greatly from one person to the next, simply because we all have different shaped ears. All frequencies are affected, in different ways, by the way an earpiece fits inside the ear; bass frequencies are subjectively amplified by direct contact whereas high frequencies tend to be muffled - try wiggling a standard pair of iPod earphones around to experience this.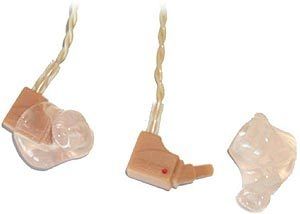 As with ear protection, the best solution is custom moulding. The outer part of each earpiece is moulded from an thomann impression of the customer's ear; this ensures optimal transmission of all frequencies, provided the basic design is correct, and also makes the resulting earpiece fit very well and much less likely to fall out.
Custom-moulded systems are expensive, partly because of the cost of taking an impression and producing individual mouldings, and partly because there would be little point in doing this if the earpiece itself were not of the highest quality.
At the very high end of the market, systems can be made to order to suit the customer's needs in every respect. In addition to being moulded to the user's ears, the number of drivers (one, two or even three) can be specified as well as the degree of external noise rejection, damping and even colour. US companies Ultimate Ears and Future Sonic are the leaders in this field.
In-Ear Monitoring översikt