3. What's Out There Today
For many guitarists, overdrive or distortion pedals are not simply effects introduced for colour, or literally, effect. The tones they create with these pedals are part of their basic sound. In rock music, it's rare to hear a completely clean guitar sound these days - even sounds that at first appear undiluted, have often been given a little more depth with a touch of distortion.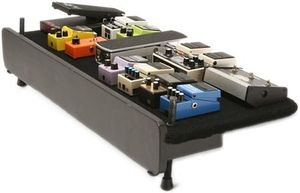 Strictly speaking, we're talking about several distinct types of effect when we use the term distortion. Boosters, overdrives and distortion boxes actually perform quite different functions, though the end result is always a distorted sound, whether it is the thin, angry buzz of The Stooges' Ron Asheton, the orchestral thunder of Matt Bellamy and Muse, or the liquid lyricism of Gary Moore or Steve Vai. For simplicity's sake, we'll talk about distortion as the general term, and get specific when we're discussing particular types of pedal. So now let's look at the three main pedal types in a little more detail.
3.

What's Out There Today
Distortion Effect Pedals översikt