6. Materials
The modern flute is ordinarily made of metal – student instruments are usually made of nickel with a silver-plated headjoint, body, footjoint and mechanism, or occasionally are supplied with solid silver headjoints.
Mid-range and professional instruments are normally made from solid silver of varying degrees of purity, sometimes with gold or platinum plating, or from solid 9K, 14K or 18K gold, or rarely even solid platinum.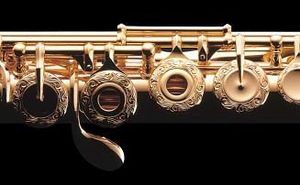 Both modern and antique wooden instruments have a small yet devoted following amongst both amateurs and professional players, some preferring their more mellow tone, as opposed to the clear and bright sound of a modern metal instrument. Flutes have also been made (with limited commercial success) from stainless steel, aluminium, and carbon fibre(!).
The material the flute is made from does affect its sound, as each metal, whether solid or plated silver, gold or platinum, will cause the instrument to vibrate in a slightly different way. But the main factor affecting how good a flute sounds is how it is made, rather than what it is made from.
resumo de Flutes