4. Booster
Boosters raise the volume of the guitar signal so that the tubes in the pre-amp stage are overdriven, and the sound output of the amplifier is increased accordingly. Some boosters simply raise the volume, so many guitarists prefer overdrive pedals which give greater control over gain and volume levels.
In the 60s and 70s, treble boosters were particularly popular, and modern versions of the classic boxes are widely used. As well as increasing the volume, treble boosters add additional distortion by boosting the higher frequencies within the signal.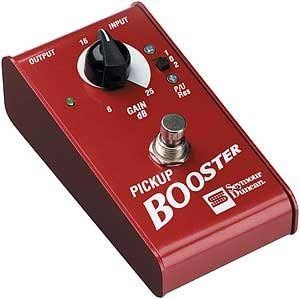 Among the guitarists who made memorable use of booster pedals are Brian May, Rory Gallagher, Tony Iommi, and Ritchie Blackmore in his classic Deep Purple days. All used them to achieve highly distinctive sounds of their own.
If it's true amp distortion and crunch you're after, then a booster is what you need.
resumo de Distortion Effect Pedals