4. Action
The action of a piano is the name for the mechanism of the keys and parts behind them, and is also used to describe the physical feel of it beneath your fingers. It is a vital consideration - the keys must respond precisely to your touch if you want to play with true expression.
For young beginners, the weight of the action is an important concern. If it's too light, they may struggle to progress to a better quality instrument, but if it's too heavy, it may at best be discouraging, and at worst could even do damage to formative finger muscles.
We have already considered touch-sensitivity as a part of the sound of the instrument, and of course, it is closely related to the action.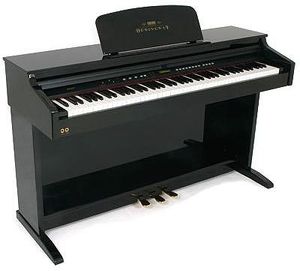 Real pianos, and even real electric pianos such as the Fender Rhodes and Wurlitzer, are organic, mechanical devices. There is a direct relationship between the weight of your playing and the sounds they make. In the digital world, almost everything is artificial, and the responsiveness of the action ultimately has to do with how good the electronics are, and the quality of the keyboard itself. You need a smooth, positive response when you strike the keys, rather than a laboured clunk.
resumo de Digital Pianos