8. Warranty
Cymbal manufacturers offer a warranty against manufacturing defects and normal wear and tear within a set period of time. For this reason it is important to keep your receipts to establish the date of purchase. While warranties differ between manufacturers, it's wise to be aware of what is covered and what isn't.
There are two main types of cymbal crack:
Crack of the cymbal edge or centre hole

Crack in the middle of the cymbal in the direction of the grooves.
In the second case, there will usually be no difficulty in obtaining a replacement during the warranty period.
Properly treated cymbals will never look like this: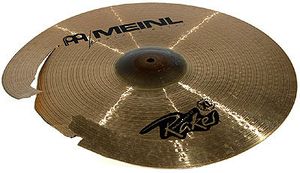 If a cymbal develops a crack near its edge within the warranty period you should stop playing it and immediately return it to the manufacturer to determine whether the cause was a manufacturing defect or misuse.
Edge cracks are usually caused in one of the two following ways: repeatedly striking the cymbal too forcefully or dropping it on its edge causes the material to deform or compress and eventually crack. For this reason, we recommend transporting cymbals in well padded bags or hard cymbal cases. When removing cymbals from your stands, immediately put them in their case to minimize the chance of accidental damage.
resumo de Cymbals