2. What is a Controller Keyboard?
At the simplest level, a controller keyboard, also commonly known as a 'master' keyboard, is a keyboard which itself produces no sound, but is instead connected to other equipment such as a sound module or, via a computer-based studio setup, to any number of other keyboards, modules and software instruments. Of course, a keyboard with integrated sounds may also be used as a master keyboard provided it has a MIDI output - many keyboards continue to function in this capacity long after their built-in sounds have been judged dated.

A controller keyboard is often a relatively simple piece of equipment. The electronics required to translate the depression of keys into MIDI instructions are in principle fairly straightforward. When choosing a controller, the main decision is between a handful of basic types. Beyond this, a number of other features and connection options also come into play.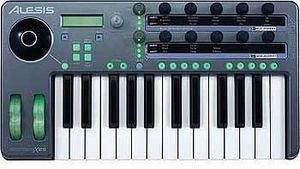 2.

What is a Controller Keyboard?
resumo de Controller Keyboards