5. Talking About Drivers
A driver is a small piece of software that makes communication possible between the audio interface and the recording software. Without the driver, the operating system has no idea that the audio interface connected to the computer exists. The features contained in the driver dictate how the audio interface can be used, and what inputs and outputs are available.
Driver Standards
A few standards have emerged that offer specific high performance operation between audio interfaces and music software. The most common is ASIO, introduced by Steinberg to work with their Virtual Studio Technology.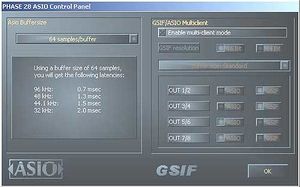 Apple introduced its "Core Audio" standard with OSX. Windows has a standard called WDM (Windows Driver Model) in XP that has been superseded by WaveRT in Windows Vista. One other driver of note is the GSIF (GigaSampler InterFace) driver from Tascam, that singularly supports the GigaStudio sampler application to enable maximum performance. ASIO remains the most common for the time being though, and virtually all audio interfaces designed for music support this standard.
resumo de Audio interfaces