Sommer Cable Focusline MS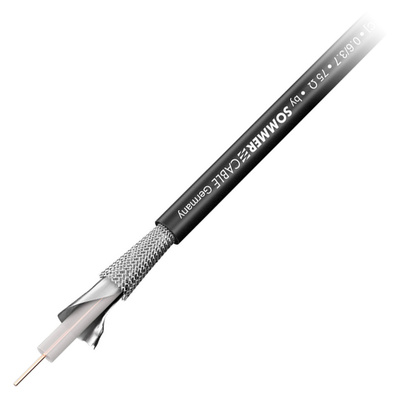 Video CableThis is exactly ... + / - 1%. Because the ohmic accuracy is important!
And inaccuracy is the enemy in video transmission. This cable is used in video engineering and is suitable for mobile use and for fixed installations. The green sheath color characterizes the 75 Ohm wave impedance required by broadcasting houses with an accuracy of +/- 1%. In contrast to the usual video lines, the Focusline is equipped with a soft, yet very resistant sheath and a tightly twisted copper mesh made of oxygen-free copper.
Accurate wave resistance of 75 Ohm +/- 1%

Flexible and resistant outer sheath

6.2 mm diameter

Low damping: 10.2 dB 100Mhz / 100m

CU solid wire 0.6 mm

For image processing in video

Cabling of image and monitoring monitors

Fixed installation in broadcasting and television

For data transmission

Application in high-frequency technology

Matching connectors Neutrik NBNC75BLP7 (Art.154405)

Not HD / SDI compatible
Więcej Sommer Cable pozycij