4. Advanced Features
The more advanced features of headphone amps tend to be geared to specific applications. In-ear stage monitoring continues to gain popularity at the expense of wedge monitors. At the musician's end, this generally involves some sort of headphone amp; while a conventional model is fine for a player who is in any case unable to move around (for example a drummer or keyboard player), others such as singers and guitarists usually use wireless systems, where the headphone amp is essentially incorporated into a wireless receiver. For more information on this, please consult our In-Ear Monitoring Online Advisor.
As we have seen, a multi-channel headphone amp is effectively a type of mixer and it is no surprise that other mixer features are often incorporated into their design. These include level metering, equalisation (EQ) and solo/mute buttons.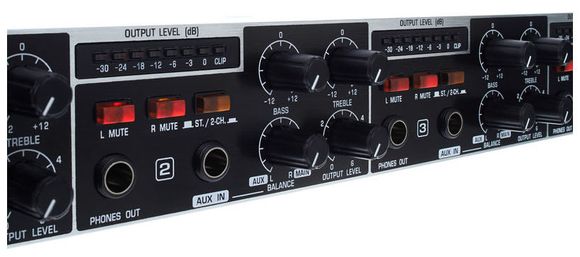 Some of the most advanced headphone monitoring systems use computer networking technology (usually Ethernet) to distribute multi-channel sound around studios and other venues such as theatre pits. The recording engineer (or monitor engineer) sends many discrete sources or submixes to a distribution unit, where they are combined into a multi-channel audio stream which is output via Ethernet. Individual musicians may then be given their own controller/mixer units, connected to the nearest network socket, on which they may mute, solo or adjust individual components to their own requirements.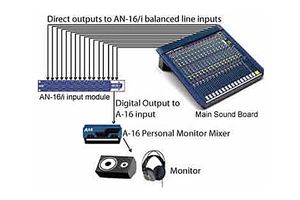 Zestawienie Headphone Amps