8. Conclusion
It's easy and cheap to enter the world of the harmonica. Even inexpensive models can be perfectly good beginner's harps, and the simple tunings mean you can soon be playing recognisable tunes.
As we have seen, a Richter diatonic, probably tuned to C, is the best place to start. These little ten-holed instruments can be used to play blues, folk, jazz, rock and popular songs, as well as basic classical melodies. The only disadvantage is that you need several harmonicas if you're going to play in different keys with other musicians.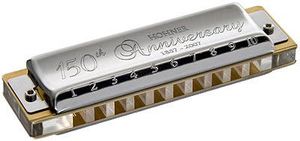 Chromatic harmonicas overcome this problem of course, but they are more expensive. Bending and overblowing are also more difficult, but they are not really necessary, since you have all the notes you need. But whichever harp you choose, get playing soon!
Zestawienie Harmonicas