2. General
Drumheads come in several varieties. First there are obviously the sizes, 10" , 12" etc. To deliver a range of sounds , drumheads are built in various ways.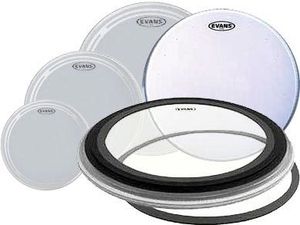 There are one layer and two layer heads. The strength of the head differs between extremely thin ones and thick ones. You can get transparent or coated heads. Some are oil-filled and some have a built in dampening system.
All this is done in order to shape the sound or timbre, i.e. effect resonance and attack, bass and treble as well as sustain, to cater for various musical needs.
The size of the drumhead is obviously directly dependant on the size of the drum shell. This is measured in full inch sizes and one inch increments – i.e. 10",11",12" …, 16" and so on. The scale ranges from 6" to 26". The sizes represent the shells they belong to. 10",12",13" are typical for mounted toms. 14" is the standard snare size. 16" would in most cases be a Floor tom. With 20" we are starting in the kick drum department. Obviously there will be exceptions but as a general guideline we are not too far off.
Materials
Polyester, Nylon and Mylar are the mostly used materials. They all have being extremely durable in common. They are gauged from rather thick to relatively thin depending on manufacturer, they tare only in rare cases. ( but hey, they do – and they do so just when you don't need it – at a gig. Always bring a spare for the kick drum and the snare. Take the old ones if you have to.)
Zestawienie Drumheads