4. PAR Lamps
The PAR can, unlike most other entertainment lighting fixtures, has no means of focusing its light output. Only with a PAR56 or PAR64 do you have any control over the beam; the lamp and therefore the beam is oval, and it can be adjusted by turning the lamp around inside the can.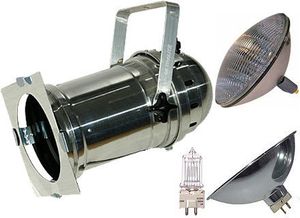 PAR64 and PAR56
PAR64 and PAR56 lamps are available in various beam angles; narrow spot (NSP), medium flood (MFL) and wide flood (WFL). PAR56 lamps are all 300w but PAR64s are available as either 500w or 1,000w. All PAR64 and PAR56 lamps have a GX16d base. Also available for both PAR64 and PAR56 cans is a 'Raylight' conversion. This conversion replaces the usual PAR lamp with a GY9.5 lamp-base mounted in a parabolic reflector, which creates a very narrow circular beam. 300w, 500w and 1,000w lamps are available to fit the 'Raylight' conversion.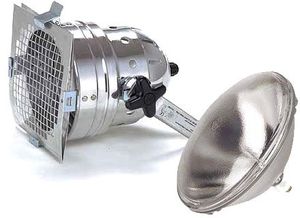 PAR36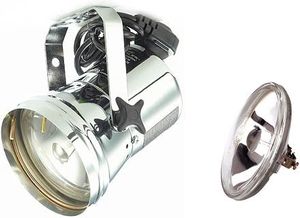 There are three main types of PAR36 lamps. The 6 volt / 30 watt version is the one most commonly called the 'pinspot' - with a beam angle of just 5° it's perfect for lighting a mirrorball or projecting shafts of light onto a dance floor. The others – the 28 volt / 250 watt and 120 volt / 650 watt - are not often used in PAR cans; they are usually used in spot banks where they are wired in series to make 230 volt groups. The only occasion these lamps are used in PAR cans, is when they are series wired on a pre-wired lighting bar called an 'aero' bar. Because there is no 230 volt version of the PAR36, they must always be used with an appropriate transformer, or else series wired to make up 230 volts. The PAR36 lamp has a G53 base which consists of two screw terminals, requiring a tool to fit and re-fit the lamp.
PAR16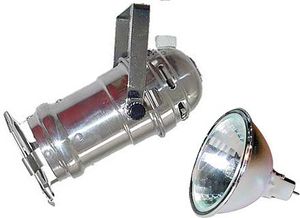 Until recently there was no 230 volt lamp available for the PAR16 can, but that has changed with the introduction of the GU10 lamp which is available in 35w or 50w variants. There are many different 12 volt PAR16 lamps to choose from though, ranging from 10w up to 75w, many of which are available in different beam angles. All the 12 volt versions have a GX5.3 base, and again must either be used with an appropriate transformer, or series wired.
Zestawienie Can Lights