Hammond Melodion 44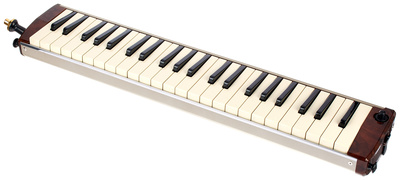 No JavaScript? No Audio Samples! :-(
Blues Amp

Blues Mic

Chanson Amp

Chanson Mic

Chromatical Mic
Melodion Melodica
44 Keys

Built-in dynamic microphone

6.3 mm Jack output

Volume control

Dimensions: 560 x 133 x 50 mm

Weight: 1.2 kg

Incl. 3 Mouthpiece (1 tube), cleaning cloth and gig bag
Note: the instrument sounds like "C concert pitch"
Podobne produkty i akcesoria
Aktualnie ten produkt posiada ocenę tylko w innym języku.
Wystąpił błąd. Proszę spróbować później.
Klasse Musikinstrument mit kleinen Schwächen
| | |
| --- | --- |
| Łącznie | |
| dynamika | |
| dźwięk | |
| wykończenie | |
| właściwości | |
Stephan Janson, 13.12.2010
Es war ein langer Weg bis ich das beachtliche Budget bereit war aufzubringen um mir dieses Instrument zu kaufen. Ich habe so ziemlich jede Preisklasse und Marke an Melodikas getestet. Wie alle Melodikas hat auch dieses Instrument den typischen Mundharmonika / Akkordeon Sound und lässt sich kinderleicht über die sehr tastenreiche Klaviatur spielen.

Die Tastatur reagiert schnell und direkt. Mir gefällt der fühlbar weichere Druckpunkt gegenüber billigeren Melodiken. Ein Renner ist natürlich der große Tonumfang. Die Größe der Tasten ist allerdings typischerweise nichts für "Wurschtfinger" aber aufgrund der Tatsache dass dies ein transportables Instrument sein soll ist das absolut gerechtfertigt.

Ein eingebauter passiver Tonabnehmer mit Lautstärkeregelung, drei wählbare Mundstücke und die Möglichkeit einen Gitarrengurt anzubringen (leider nicht enthalten) schmeicheln dem Paket ebenso wie das praktische Softcase und das obligatorische Putztuch.

Die Verarbeitung ist einwandfrei. Die Mitgelieferten Mundstücke und Schläuche sind allesamt gut verarbeitet und man kann nach Geschmack entscheiden ob halbflexibler, vollflexibler Schlauch (beide besonders für zweihändiges Spiel) oder das einfache Mundstück als passend für die eigene Spielweise empfunden werden.

Die Stimmzungen reagieren schnell und bleiben gegenüber günstigen Melodikamodellen auch bei Temperaturschwankungen noch gut in der Stimmung.
Töne lassen sich gut ziehen und Flatterzungeneffekte etc. gehen erfreulich leicht und organisch in das Spiel über.

Vom Sound her muss man sagen wurde die Melodika nicht gerade neu erfunden sondern in ihrer Charakteristik eher veredelt. Man hört deutlich die kräftigeren Stimmzungen in der tiefen Lage und die feinen aber stimmsicheren Zungen in der Höhe. Somit klingt der Bass schön klar und die Höhe fast flötenartig zart mit reichem Obertonklang. Insgesamt fehlt dem Instrument leider das volle Volumen eines kräftigeren Klangkörpers. Der Naturklang ist somit zwar angenehm, macht aber aufgrund des Tonumfangs Lust auf verstärkte tiefe Mitten um mehr Wärme und Charakter entwickeln zu können. Dies ist aber ein grundsätzliches Problem bei allen Melodiken aller Preisklassen.
Hier hilft die Möglichkeit den Klang über das ausgegebene Tonsignal zu manipulieren:

Der Tonabnehmersound ist erstaunlich naturgetreu. Ich habe selber versucht verschiedene Melodikas zu mikrofonieren und selbst mit 2 internen Mikrofonen war es schwierig jede Zone klar zu definieren. Bei der Hammond 44 wurde jedoch professionell gearbeitet. Alle Tonhöhenbereiche sind gleichwertig vertreten und entsprechen dem Naturklang. Das Ausgabesignal ist erwartet leise wie bei einer E-Gitarre. Eine aktive Pickupvariante mit Klangregelung wäre wünschenswert.

Das Preis-Leistungsverhältnis ist streitbar. Für das Geld würde ich einen aktiven Pickup mit Klangregelung erwarten oder zumindest eine cassottoähnlichere Variante mit mehr Wärme im Naturklang. Auf der anderen Seite habe ich bisher keine bessere Melodika gespielt und die Möglichkeiten die die oben genannten Features offenbaren gestalten das Gesamtpaket als angemessen.

Das Instrument ist alles in allem sehr empfehlenswert aber man muss schon ein paar Groschen parat haben um in den Genuss dieses transportablen Wind-Tasten-Boliden zu kommen.
Wystąpił błąd. Proszę spróbować później.
Un instrumento de verdad
| | |
| --- | --- |
| Łącznie | |
| dynamika | |
| dźwięk | |
| wykończenie | |
| właściwości | |
CarlosBoco, 02.10.2012
Ya era hora de tener una melódica de verdad!
Construcción: cuerpo de metal, acabados de madera y teclas y embocadura de plástico. Sólida, resistente y bien ensamblada. Nada que ver con las melódicas de plástico que había en el mercado.

Sonido: gracias a sus 44 teclas tiene una paleta de sonidos muy amplia. En registro graves se asemeja a un clarinete, y es ideal para acompañar. En medios y agudos ya suena a melódica pero con mucho cuerpo, parecido a un acordeón, ideal para hacer melodías e improvisar.

Expresividad: para los instrumentistas de teclas es un nuevo mundo. Las posibilidades expresivas de los instrumentos de viento (ligados, picados, vibrato, estacato....) mezcladas con las teclas dan un resultado enriquecedor. A parte, poder participar con el cuerpo acostumbrados a estar detrás del piano es muy gratificante.

Sonorización: plugg and play. Un jack y a tocar. esto es lo mejor, ni micros ni cosas raras. Los micros internos tienen una calidad asombrosa, y sacan el sonido por igual ya estes en agudos o en graves. Además lleva su control de volumen. sencillamente genial.

Creedme, aunq el precio es elevado, si queréis tocar una melódica de verdad merece la pena, es otro mundo.
Artykuł dostępny w magazynie
| | |
| --- | --- |
| Numer artykułu | 239280 |
| Cena za | 1 szt. |
| Produkt dostępny od | grudzień 2009 |
Ranking sprzedaży
w tej kategorii
Ranga 10
na thomann.de
Ranga 14155
Twój asystent sprzedaży
Tel: +49-9546-9223-26
Fax: +49-9546-9223-24
Zgłoś błąd
Zauważyles błąd i chciałbys nas o tym powiadomić?
Dziękujemy za Twoją wiadomość, zostanie ona przetworzona najszybciej jak to możliwe.
Płatność i bezpieczeństwo
Sklep
Mapa witryny
Kontakt i serwis
Dla naszych fanów

Bezpieczna płatność przez Cash on Delivery, Credit Card, Bank Transfer lub PayPal.

+49-9546-9223-648
poland@thomann.de

Thomann GmbH
Hans-Thomann-Straße 1
96138 Burgebrach
Germany




Sklep

Drobnym druczkiem
ID: 239280
© 1996 – 2017 Thomann GmbH
Thomann loves you, because you rock!