8. Leslie
The Leslie speaker is perhaps the most cumbersome and complex piece of effects hardware available, though many musicians feel that the effect has never been completely replicated by electronics or software.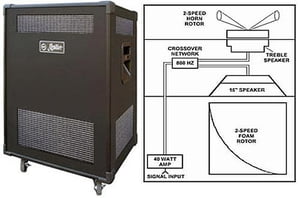 The Leslie speaker cabinet (and various similar designs) is named after its inventor, Don Leslie. Originally designed to enhance the sound of the Hammond organ, the Leslie effect found favour in the 60s, and has come to represent an instant 'psychedelic' ingredient for many musicians influenced by The Beatles, Cream or Jimi Hendrix.
Though generally described as containing rotating speakers, the original Leslie design in fact uses static speakers. A high frequency driver (facing upwards) is directly coupled to two rotating horns and the bass speaker (facing downwards) is positioned so that its sound bounces off a foam rotor.
All these moving parts give the Leslie design a sound that has proved hard to replicate electronically, though the goal has always been perceived as worthwhile when compared with the cost of owning and maintaining the real thing - legendary for its unreliability.
The Leslie effect is a complex combination of tremolo, vibrato and other sonic artefacts. Tremolo is produced as the sound is loudest each time the rotor faces the listener. The physical movement, particularly at higher speeds, also produces pitch variation via the Doppler effect (see 'Chorus'). Both of these effects change depending on the listener's position, and are therefore accentuated by close microphone placement.
Early attempts to replicate the Leslie sound, while not very successful in absolute terms, often produced interesting and characterful results which now have their own place in the world of 'vintage' sound. The Dunlop Uni-Vibe pedal, originally developed for Jimi Hendrix, has a sound all of its own which has been much copied.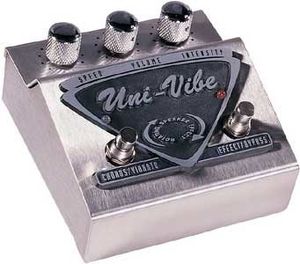 More recent Leslie Simulators have used physical modelling techniques to reconstruct the technique from the ground up. This is really the only way to get near to reproducing the complex interactions of moving parts and audio circuitry that make up the Leslie sound.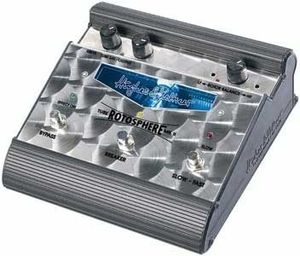 in de Überblick