5. Trigger
Rubber pads as well as mesh head pads have built in, integrated triggers. Triggers however are also available as a stand alone component. The schematic of triggers in different models is almost identical. The sensor is either connected directly to the surface (hoop, shell or drumhead ) or connects through a plastic cone which is pressed down. The later type can be adjusted by a screw and is generally positioned on the drumhead. As an alternative there are adhesive triggers. These triggers are relatively small and can be attached to any surface – which makes them stand out from the rest. ( OK they are pretty cheap too )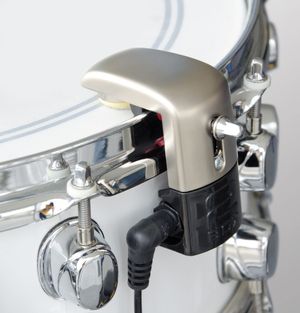 Their use is universal. They are no trouble when attached to the shell, however when used on the drumhead are easily damaged when accidentally hit with a stick. The dynamic range of adhesive triggers is a bit limited but you can still make great use of them.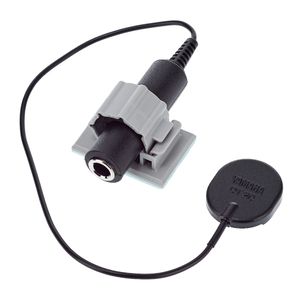 Their bigger colleagues, the ones that are mounted on the hoop, are superior in that respect. Further more they have a protective cover on top that shields them from accidental hits.
Hoop mount triggers are available for snare, toms and kick drum, in each case optimised for that particular use.
The amount of different models is rather small and good drum modules have the most common triggers pre-configured. This makes installation and fine tuning child's play.
in de ‹berblick