3. Other Delay Based Effects
As discussed above, a delay line can be used to double an audio signal. However, by modulating the delay time, the pitch of the signal is also modulated. Older tape based delay units suffered from what is called 'wow and flutter', deriving from the instability in the speed of the motor that drove the tape. This created fluctuation of both pitch and time, but actually produced a very pleasing effect which we now call chorusing. This is achieved in solid state and digital devices by adding an LFO (Low Frequency Oscillator) to the delay unit. This usually has controls for frequency, the rate at which the oscillator actually modulates the delay time, and also for depth, the amount by which it affects the signal. Sometimes, there may also be a setting for the oscillator's waveform shape. This is usually a sine wave as standard, although other shapes such as square waves can produce some very interesting results!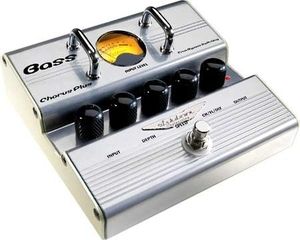 Chorusing
Chorusing is an effect that delays the incoming sound by a small amount, but modulates the length of that delay with an LFO. It creates a 'wider' doubled sound than a straight delay, as the continually varying small differences in both pitch and time more closely resemble two instruments playing in unison. Used in moderation, this can sound great on vocals, guitar and even bass.
Flanging
Flanging is very similar to chorusing, but uses a shorter basic delay time in combination with an LFO. The resulting sound can be quite metallic, but works well on guitars and keyboards in the right situation.
Phasing
Produced in the same way as chorusing and flanging, but here with an extremely short basic delay time, so the output of the delay line is slightly out of phase with the incoming signal. With the right parameters, this can create a very un-earthly and psychedelic swirling effect.
It's quite possible to create all of these effects with a single relatively simple delay pedal, but remember that you may need two or more of them at once, hence the requirement for dedicated devices, or alternatively a multi-effects unit. Furthermore, dedicated phaser, flanger and chorus pedals usually offer much finer control over the appropriate parameters than can be achieved with a basic delay pedal.
3.

Other Delay Based Effects
in de ‹berblick