11. The Electro-Acoustic Guitar
Let's make the distinction clear - an 'electro-acoustic' guitar is designed to sound like an acoustic guitar when amplified. Most are also fully functioning acoustic guitars when unplugged. A 'semi-acoustic guitar' on the other hand, is essentially an electric guitar that happens to be hollow or semi-hollow.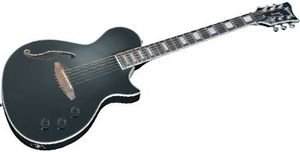 Until the Sixties, acoustic guitarists had to sit or stand in front of one or more microphones to achieve amplification via a PA system. This remains the preferred option for studio recording, but these days most players use an electro-acoustic guitar for live performance. While some early electro-acoustics used magnetic pickups clamped across the sound-hole - and this remains an option for fitting to expensive acoustic guitars without 'surgery' - most magnetic pickups do not do justice to the acoustic guitar sound. The modern version is the 'piezo-electric transducer', in which a crystalline or ceramic material converts vibration into electric current. Most piezo pickups take the form of a strip placed under the bridge saddle which ensures an efficient mechanical connection to the strings. Because this direct connection also interacts with the vibration of the body, piezo pickups capture the acoustic sound much better than magnetic pickups, although still far from perfectly. Most piezo-based electro-acoustics do produce at least an acceptable sound for live rock and pop work though, and some recent models from Yamaha and others add an internal microphone which can be blended with the piezo signal for added depth.
in de ‹berblick