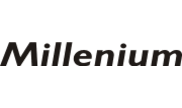 Mil­le­ni­um
Over Millenium
Beschikbaar bij ons sinds
1995
Producten op voorraad
929
Ø Beschikbaar
93.17% (1 jaar)
de zaak Millenium werd opgericht in 1994. de hoofdvestiging van de zaak Millenium is in Treppendorf (D). Het aantal employees is 1080 (status 2016).
Millenium is Thomann's eigen merk. Deze producten zijn vervaardigd door gerenommeerde fabrikanten die ook producten voor vele beroemde merken produceren. Aangezien we deze producten rechtstreeks vanaf de fabriek importeren en er verder geen tussenpersonen of distributeurs zijn, kunnen we de Millenium producten leveren tegen bijzonder gunstige prijzen.
Op dit moment hebben wij 999 Millenium producten - 943 waarvan op voorraad en 96 aanbiedingen in onze actuele Hot Deals. Millenium maakt deel uit van ons assortiment sinds 1995.
Millenium producten zijn state of the art. elke vierde Thomann klant heeft minstens een Millenium product bij ons besteld.
Om u als klant zo goed mogelijk op de hoogte te houden over Millenium producten, kunt u een groot aantal 261199 media, reviews en test verslagen vinden over Millenium producten op onze website – waaronder de volgende 9634 foto's, 482 diverse 360 panorama views, 116 sound samples, 250873 product reviews van klanten en 94 test verslagen van magazines (in diverse talen).
In onze topverkooplijst staan momenteel bijvoorbeeld 437 Millenium artikelen in de volgende product categorieen electric-drum sets, hoops, keyboardstandaards, wielen en dolly's, 16" grondtoms, tassen voor enkele drumketel en Transport Systemen.
De huidige bestseller is het volgende artikel product Millenium Thomann Egg Shaker. Absolute hit is het volgende product Millenium MPS-850 E-Drum Set - we hebben dit artikel alweer meer dan 20.000 keer verkocht.
Millenium producten horen bij de meest populaire artikelen op onze website. Recentelijk werden meer dan 2.8 miljoenen product pagina's van Millenium per maand bezocht.
Bij Thomann koopt u Millenium producten goedkoper dan elders. In de afgelopen drie maanden reduceerden we de prijzen 66 van deze fabrikant zijn producten. Bovendien hebben we fantastische set-aanbiedingen en creatieve bundels met praktische accessoires en interessante extra's tegen bijzonder lage prijzen.
Zo kunt u ons contacteren