4. Filter Design
As mentioned in the introduction, wah pedals are not designed to sound like ideal filters, but instead to offer more interesting and 'quirky' musical characteristics. The filter type used is called a 'band pass filter'. Some pedals, such as the Vox, boost signals around a unique centre frequency, whereas others have a more complex frequency response. For example, the Crybaby actually has two distinct boost regions which are swept in parallel. A reliable source claims that this was more of a fortunate accident than design, but hey – it sounded great!
There are 3 main factors which give rise to any wah filter's characteristic sound:
Filter bandwidth
Q-factor (sometimes called 'resonance' or 'intensity')
Sweep range
An understanding of these terms will be useful when we take a look at some more modern wah designs later.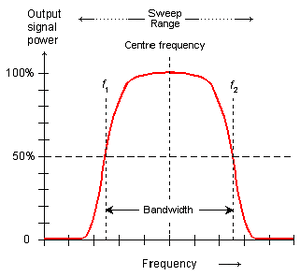 The filter 'bandwidth' (sometimes called the 'passband') is defined as the range of frequencies boosted, in this case between f1 and f2, where the output power of the filter is half the power at the peak – which itself is always at the centre frequency.
The 'Q-factor' is a measure of the filter's steepness. As the Q increases, so does the steepness of the filter. The Q of this type of filter is defined as the ratio of the centre frequency to the difference between the frequencies where the signal is attenuated by 50% (-3dB) – that is, the 'bandwidth' in the diagram.
Q = centre frequency / bandwidth [f2-f1]
So it can be seen that the higher the Q, the smaller the bandwidth. In other words, high Q is more intense, as it boosts a narrower range of frequencies and leaves the sound subjectively thinner.
The 'sweep range' simply determines how low and how high the pedal action can take you. Some models concentrate on the lower ranges, some focus on the higher ranges, and there are others that allow for user adjustment.
Wah Pedals panoramica