9. Extras
The convergence of audio equipment has become increasingly commonplace in recent years - gear that was previously dedicated to a particular task is now performing multiple tasks, and multitrackers are no exception.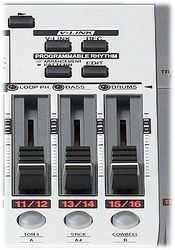 Some all-singing-all-dancing models not only do the job of a recording studio, but also of all the instruments! These are often referred to as workstations, and typically incorporate samplers, drum machines, trigger pads and mastering tools. As a rule, additional parts recorded with these don't eat into your main track count, allowing you to dedicate the full complement to acoustic recording.
CD-R drives
Built-in CD-R drives are generally thought of as devices for burning finished masters, but they can also be used to back-up or save complete projects for working on at a later date. This is particularly handy if your main storage medium is of limited capacity, and with CD-R media getting cheaper every day, it makes for an inexpensive way of archiving your projects.

Portable Multitrackers panoramica